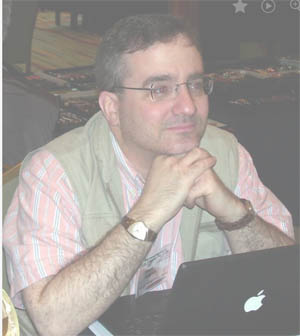 I

type this Oct 3 2018

. I've been collecting old pens a bit more than twenty years... time flies. I've hunted Sheaffer's Balance all that time, and for most of that time I've aggressively hunted the 1930s Sheaffer Balance in the color Rose Glow. I've tried to add to my collection each new Rose Glow pen or pencil variant I meet, my collection now numbering about 30 items. I've had my share of oversized (Premier model) pens over the years, a scarce pen considered by many to be King of the Balances.

But, if the oversized pen is King of the Rose Glows and indeed King of the plastic Balances, there remains... an emperor. The oversized model, Premier, ever so occasionally has been found with an upgraded wide/lined cap-band collectors call the Jeweler's cap-band. I've seen or know of perhaps just four examples. A couple of those were quite worn. It has pained me to lack an example in my Rose Glow collection.

Rick Krantz has been a friend in the hobby since the beginning. A well regarded expert in his areas of interest, he has a knack for finding great pens in the wild. So, I was all ears when he called me a couple weeks ago and mentioned having spotted an oversized Rose Glow Balance at a country estate auction and when he wondered if I might want it. .



Who turns down a Rose Glow oversized Balance, if it can be found "right"? We discussed a price range. He planned to grade it before doing any bidding
. I was amazed he didn't want it for his own collection. He noted the auction website photo for the pen showed it in cellophane in box. Could it be mint?

When he forwarded me that rough photo, my jaw dropped. Rick had not mentioned the pen had the wide "jeweler's" cap-band. It was not just a Premier, it was Premier Deluxe, just the fifth I've encountered the past twenty years. Emperor of the Rose Glows!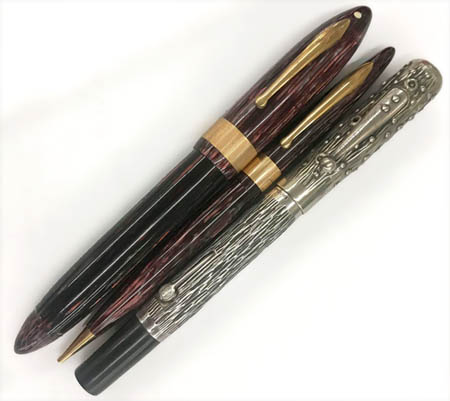 We discussed value range. Rick noted he'd take better photos when he visited the auction location. This thing was just sitting on a table, amidst all sorts of old household tools, collectables and knicknacks. Turned out the set was not in original Sheaffer boxes and plastic. Those red boxes were Esterbrook boxes. The pen was not mint. It was cosmetically clean, but had hefty barrel ambering, not uncommon to plunger-fill Rose Glows. Clean trim. Tight clip. Razor-sharp barrel imprint. No personalization. Very very nice. I did wonder if the pencil in fact was not oversized, but rather standard size.

Yeah, the pen's blind-cap would need to be reattached to the plunger stem, but I know restorers who properly can do that, and I hoped local collectors might be put off by that issue, keeping the price down. Rick took a more crisp photo of the set, posed with his rare Waterman Pickle pen (oooh... I mean

Tree Trunk

pen). The pen looked really quite nice.

We worked out a bidding plan. The pen sold for but a fraction of our bid. Rick confirmed he was willing to let the set go, and he sent it my way. I am grateful. Great shape for the pen. Great shape for what indeed turned out to be the standard-size pencil. I find it interesting an ancient set found in a non-collecting setting still had size mismatch for pen and pencil. Perhaps back in 1938 the jeweler who sold the set did not have the big pencil in stock. So it goes.

I now have some 10 Rose Glow pen and pencil variants with the Jeweler's cap-band. I truly am thrilled finally to own the Emperor of the Rose Glows. I owe one to Rick. I placed the cap on a lever-fill barrel for the art shot below, but it will rest happily in my collection with its plunger-fill barrel.

Thanks Rick!