Everything's coming up Rose Glows
...with apologies to Ethel Merman
(based on my 2016 Pen World Magazine article)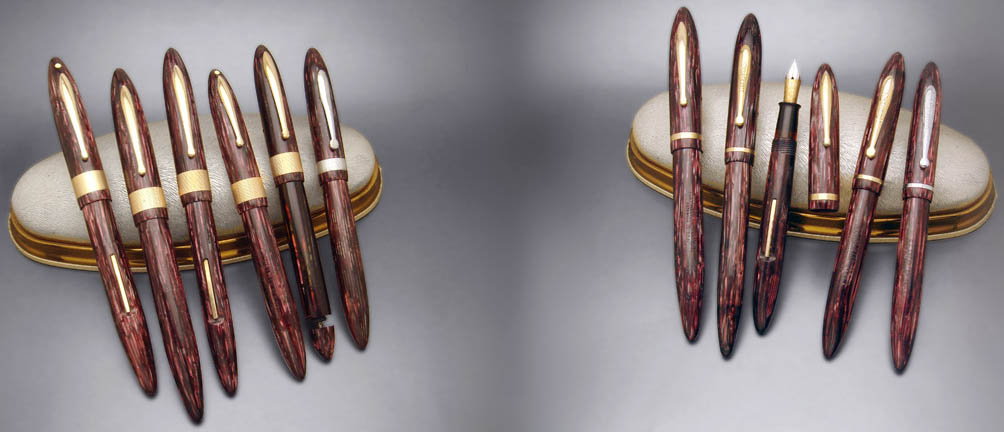 It was

—oh, I don't know—

Autumn 2001 or so

, seventeen years ago now, and I was splitting time between New York City and Upstate New York. In fact, I was in the midst of my drive back to Rochester on one of the most scenic fall foliage drives one can find, Route 17 heading north between Liberty and Binghamton. If you've done that trip, you know what I'm talking about. But it was this particular jaunt through the Catskill Mountains that catalyzed a long-term collecting focus on Sheaffer's 1930s Balance fountain pens in the color

Rose Glow

. Click

Here

for a detailed Rose Glow profile.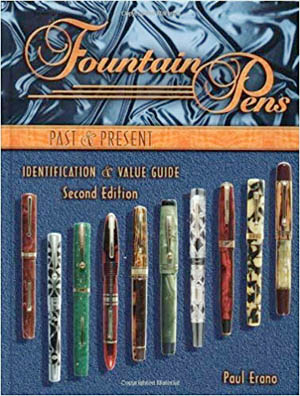 I'd been collecting old fountain pens for three-and-a-half years and had been attending pen shows some eighteen months. I'd offered some articles online about the Parker Vacumatic and was in the midst of doing photography work for the second edition of Paul Erano's best-selling hardcover guidebook,

Fountain Pens: Past and Present

. Good times, indeed.


Casually hunting the 1929-1941

Sheaffer Balance

, I had a decent wee collection of that series.
Many Balances survive today, making it an approachable and relatively affordable series.
Most originally cost between $2.75 and $10.
Today, in excellent and restored condition, most retail between $100-400; very few top $1,000. By 2001, I was just starting more aggressively to hunt the challenging and somewhat pricy oversized examples. I did have a couple

Rose Glow

pens, though none oversized.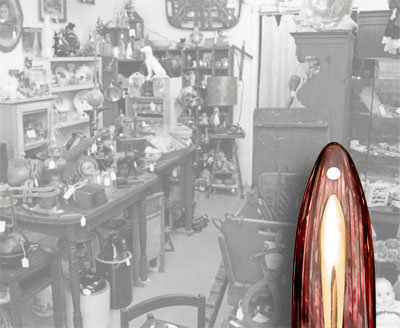 On that fateful day heading north on Route 17, I saw a sign for an antiques shop and exited to a narrow dirt road nearly hidden by dense woods. The little cabin was charming. Entering, I saw a variety of modest vintage and recent items: the usual dinner plates, PEZ dispensers, flatware, pocket knives, McDonald's Happy Meal dinner glasses, and the like. I asked about old pens, knowing the usual yield at such places tended to be minimal. Many regions long had been hunted, and many shops already were networked with veteran collectors. The nice lady behind the counter volunteered that she had one old pen in back. Upon first peek at it, I was somewhat impressed.



It was a Sheaffer Balance in Rose Glow celluloid, the oversized Premier model, circa 1936-38. She wanted $200 for it. However, close inspection revealed the

pen was rough

. The gold-filled trim was heavily brassed, worn through to the underlying base metal. The clip was both bent and loose. The plunger-filling barrel, with its partial transparency, was quite darkened; it was laden with tooth-marks, and a personalization (name stamp) had been roughly scraped away. There were hairline cap cracks in the cap-lip. I opted not to purchase it.
I thanked the shop owner for showing it to me, left the store and continued my drive north in my prized

Mazda Millenia S

. I miss that car. Heading out of the Catskill Mountains, I called Paul Erano to touch base regarding photo-illustration ideas for his upcoming book. I casually mentioned just having seen and passed on an oversized Rose Glow Sheaffer Balance.



There was a pregnant pause on the line

. Paul—already a twenty-year hobby veteran— then asked, "

You're sure… it was… oversized… and… Rose Glow?

" Of course I was sure. I was a detail-oriented collector! I had read the books! I knew the colors and sizes for Sheaffer's Balance. What did he think I was, a hack amateur newbie?



F
ountain pen books and online profiles

do offer general collecting guidelines as well as some detail about individual series of pens. However, the subtleties and nuances generally are not found in print or on a screen but are learned through apprenticeship, absorbed by observing and listening to those who have gone before.
D. Isaacson, in the 2000s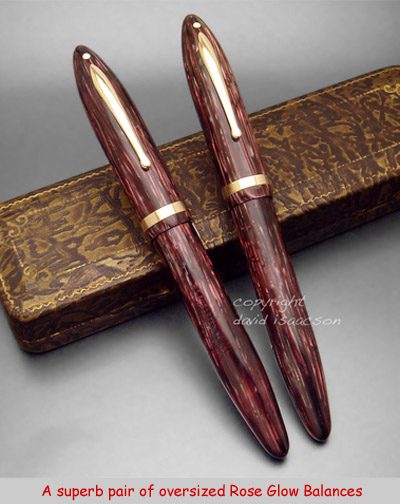 Paul suggested I might want to turn around and grab the pen. He noted that while all Balance models were relatively uncommon in Rose Glow, the oversized pen— Balance Premier—was frankly rare in this color. He explained that most Sheaffer collectors did not own one, and that it generally was considered to be the king of the Balances. I appreciated those insights, but in view of all the cosmetic problems, I just wasn't up for buying this one. Still, Paul's reverence for the oversized Rose Glow Balance intrigued me.



Rose Glow was a late Balance color, the striped/striated colors having trickled into play during 1936-39. Rose Glow differed from the other striped colors, offering its pearlescent fuchsia against a pearlescent gray substrate instead of against black. Rose Glow today is the most scarce of the five striped colors.
Sheaffer's catalogues from the United States detailed at least 11 Rose Glow Balance models, based on size, trim, and nib style. The

oversized model

truly is disproportionately scarce. Perhaps big purple pens were not popular in the late 1930s.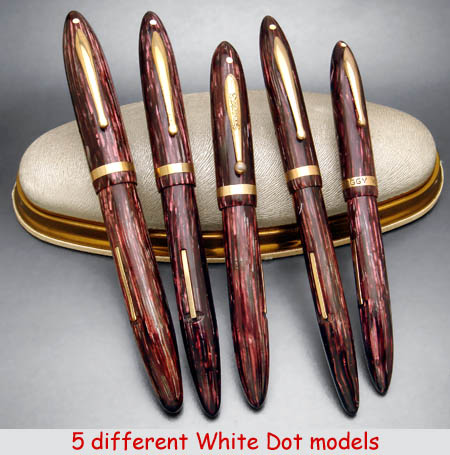 During the next year or so, 2001-2002, I noticed on the pen show circuit two longtime collectors who generally sat not too far apart. One had an oversized Balance Rose Glow cap, the other a matching barrel. Neither one had a complete pen. And…neither could quite bear to part with his half pen to let the other's Rose Glow become whole.
This went on for many months, an interesting riff on the biblical Solomonic conundrum. At least no babies were hurt. Their dance around this pen lent support to Paul's views, and the mystique surrounding the oversized Rose Glow Balance continued to grow for me. I decided I'd like to own a nice oversized Rose Glow; worse still, I had already started salting away all fresh Rose Glow Balance variants that crossed my proverbial desk. Because, you know, one never can have enough pen collecting foci.



Seventeen years have passed since that phone chat about the big Rose Glow Balance. Today, my total Sheaffer Balance collection numbers over 300. I have most of the better pens, including a slew of exotic special-market and off-catalog examples. Some are rarer than the oversized Rose Glow; a very few are more valuable. Still, to all but a small group of us who are very intense Sheafferers, the oversized Rose Glow remains the King. It remains the color of greatest cachet, no doubt.


My own Rose Glow Balance collection now numbers more than 30 pen and pencil variants. I can't really call it a mini-collection anymore.
Over the years I've owned likely 10-12 oversized Rose Glow pens, most though now living in new homes.
Besides most of what appeared in Sheaffer's annual catalogs in the U.S., the collection includes a nice selection with the lined extra-wide "Jeweler's" cap-band—pens that were factory original for special markets but not shown in the annual catalogs—and also includes several appealing and quirky Canadian variants. I even have one exquisitely rare pen with the "fish-scale" cap-band, another off-catalog pattern.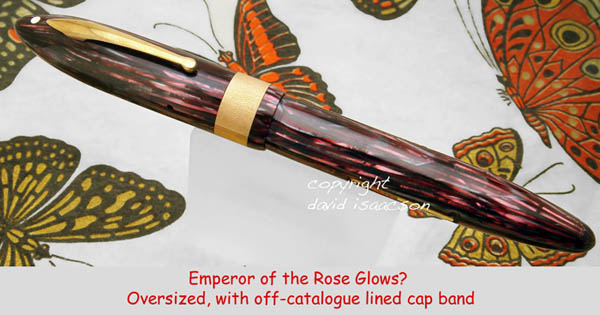 The oversized Rose Glow Balance (the Premier model) is legit King of the Rose Glows and-- excluding a couple very rare solid gold Masterpiece pens-- still likely the King of the Balances, certainly the celluloid Balances. During the past 15 years or so I've seen or heard of perhaps three or four oversized Rose Glows with the wide/lined off-catalogue "Jeweler's" cap-band. I never managed to score one. Well, this week (perhaps prompting my hunkering down to write three Rose Glow essays), a pen friend found wme with one of these upgraded Premiers, the Rose Glow Balance Premier Deluxe. The pen became mine a couple days ago (Oct 2018). Happy David. Let's call it Emporer of the Rose Glows. You can see a very short essay the happy purchase

here

.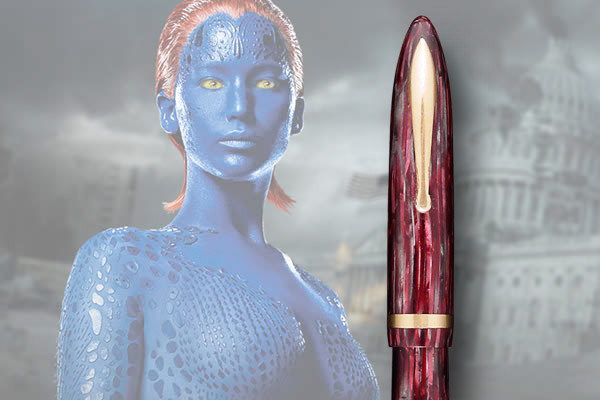 Mystique has a distinctly subjective and often personal character. The charm found in a particular pen is based on a collector's experiences as much as on the pen's value, condition, rarity, and superficial aesthetic appeal. My early experiences in our hobby no doubt impressed upon me the allure of the oversized Rose Glow Sheaffer Balance. Paul, of course, had been right about it. It was—and is—a special pen. Finding another oversized Rose Glow always is exciting. I continue to find joy in pursuing a complete collection of Rose Glow pens.


One might say that everything's coming up Rose Glows.
Contact David Isaacson with questions and comments at isaacson@frontiernet.net