Coral Celluloid

. The color features an paque red-orange base with orange/yellow veining/mottling. Used during the late 1920s-early 1930s, most of the big American pen makers did not offer it. It's a popular color today with collectors, thanks to its beauty and relative scarcity. Somewhere along the way I built a focused collection of Coral pens. It is possible I have too many pen collecting foci.

The pen above is the larger ring-top offered by Wahl-Eversharp in the late 1920s, this one non Gold Seal. It's not the lady's slender pen, but a standard diameter critter with 4-size nib, equivalent to the soldier clip and larger "tulip" clip models, but... well... with ring instead of clip. I popped it on the website for sale a few years ago. Clean color and condition, I priced it about 40-50% the cost of the otherwise identical model with pocket clip. Same great pen, but ringtops generally are not as highly sought today as clip-pens. It has remained on the website, never sold, never targeted even for inquiry. Tragic.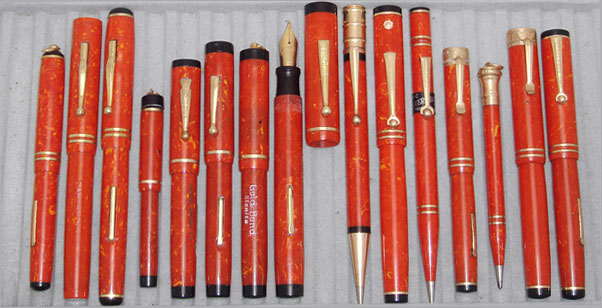 But, the years passed and I continued to add more and more Coral to my collection, pens mainly by Wahl, but also by Carter, by Barrett/National (as "Gold Bond") and even by Eclipse. In general, when I find a collecting focus, I tend to keep each fresh variant that fits the niche. So... for real... just two days ago... I was perusing my growing Coral collection only to realize that I did not have an example of this standard-diameter Wahl ringtop in my personal collection.

I was binge watching

Attack on Titan

(recommended, for those who like SF/Fantasy anime), cleaning up the website for the next update, reviewing some trays of sales pens. I said to myself, "

Self, perhaps it is time to take the Coral ringtop out of the sales stock and just keep it. It fits well in what is becoming a signficant collection of Coral Celluloid.

", and I acted on that suggestion. I moved the Wahl ringtop to my vintage solid wood Hamilton printers cabinet, where it joined its fellow Wahl Corals.

You might guess where this is going. Last night (Sept 16, 2018) a collector emailed me, wanting to buy the pen. it was the first request since I listed the pen years ago, made just a day after I had decided not to sell the pen. But, the pen still was showing on the website, and I no doubt will encounter another again one of these days. So, I opted to let it go to a new home. It shipped today. I'm not sure any point of significance rests in this tale, no profound business lesson to learn, save that coincidence can feel weird.

So, let's take this opportunity to say goodbye to a Wahl short-standard ringtop, the larger of the two ringtop sizes, a lovely pen done in Coral Celluloid, one that finally found a new home, the timing a bit odd. Here is a fresh shot, just done for my photo archives.