Contents:

Introduction
A peek at Parker's first tier
Diving to the lower levels
4 Lines: Parkette, Parkette Deluxe, Parkette Zephyr, late non-Celluloid Parkette
Era of Parkette production: 1932-1941. 1950-1952

A Parker with a Lever?
Introduction to the Taxonomy of Parkette

The Regular Parco/Parkette Line 1932-1940




Introduction

Type 0 Parkette: The PARCO
Type 1 Parkette: a changed name

Type 2 Parkette: Stepped ends.
Type 2 Parkette Convertible

Type 3 A,B C Parkette: smooth black ends

Parkette Deluxe 1934-1940




Introduction to Parkette Deluxe: two core styles
The fluted Type 1 Parkette Deluxe: Three sub types

Parkette Deluxe Type 1A
Parkette Deluxe Type 1B
Parkette Deluxe Type 1C

The cylindrical Type 2 Parkette Deluxe:

NIBS for the Parkette and Parkette Deluxe
Desk Pens for Parkette and Parkette Deluxe

Parkette Zephyr 1941



1950's metal-capped non-Celluloid Parkette
Some exotic Canadian colors for the 1930's Parkette and for Parkette Deluxe

Low Run, Experimental, Prototype pens.
From the "What the heck are these?" Pile
Guide to collecting and valuing the Parkette
A going away present. My special Parkette
Appendix: Sources and Acknowledgements



Image 1
Left-to-Right: Parkette, Parkette Deluxe, Parkette Zephyr
and 1950's Parkette


Introduction

:



The Parkette family of pens- manufactured by the Parker Pen Company- comprised third tier pens occupying bottom rungs of that manufacturer's product ladder. Produced

1932 through 1941 and briefly again in the early 1950's

and retailing at a lower price point than most of Parker's other lines, these seem to have been designed to compete with low-end product from the quality competition and with a multitude of low-name pen makes, too. They lacked the quality of better Parker pens; today, finding clean examples today is not easy. When catalogued, they

are found at the back of the book. Period advertising tends to be scant. The Parkette was Parker's first series to employ a lever-filling system, one prevalent amongst other manufacturers. Few other Parker pens ever would pack a lever.





Still... the Parkettes are Parker pens and are well overdue for detailed examination.

This writer's impetus to attack this task was his recent acquisition of two collections containing 80 of the wee critters. The Parkettes do have a following amongst collectors. The pens carry the charm of colorful

1930's celluloid. They can be nice writers. They are affordable. They are easy to restore to working order. Evolution of the pens and a nice variety of colors both contribute to a large number of possible variants, something of no small appeal to collectors of vintage pens. Anomalies crop up, further spicing the soup. Many of the pens can be dated via Parker's well known barrel-stamped date codes and by correlation to catalog data.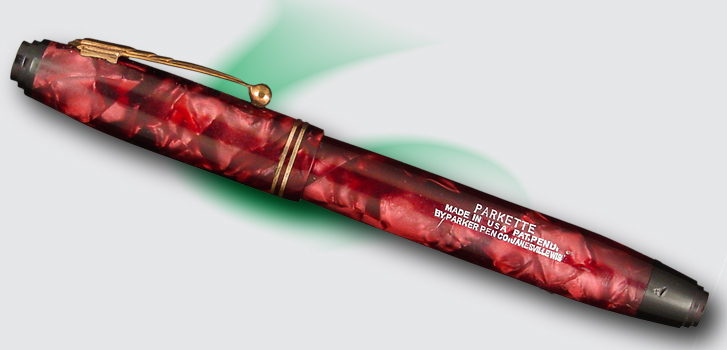 Image 2
: 1934 Parkette. This one a Type II Convertible
A Peek at the First Tier:

Not uncommonly, collectors of vintage pens go for the gold, hunting only the best - meaning first tier- pens produced by their favorite manufacturer. Thus, when they attack the 1920's- 1950's, collectors of Parker pens often are seen hunting the Duofold, the Vacumatic, and the "51". Gazing at these premier Parker lines- not to mention handling them and writing with them- one is not surprised that Parker's best are well collected today.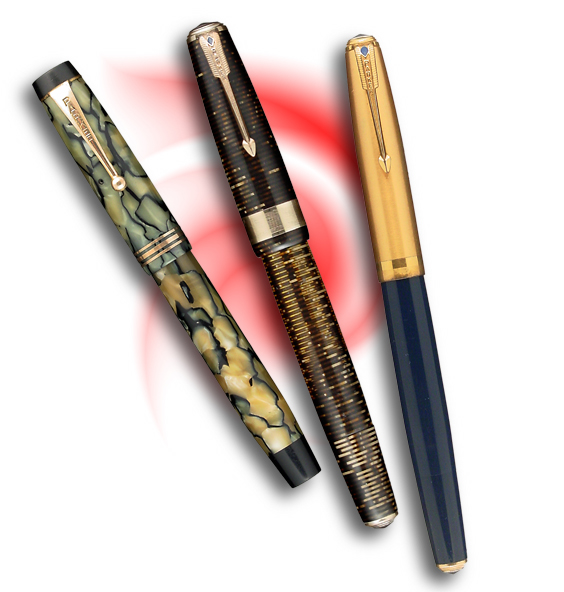 Image 3

: Left to Right- Parker Duofold, Parker Vacumatic and Parker 51




Diving to the Lower Levels

:

It is worth dipping toe into the murk beneath that lofty first tier to take a gander at 2nd, 3rd (and 4th?) tier product. Large manufacturers produced a veritable cornucopia of pen lines, making pens at many price points and targetting different markets. During the 1930's Parker produced several families of pens positioned below the Duofold and Vacumatic.

In some cases we have substantial company information about these pens; other times we do not. Some of these Parker pens are of high quality and today are aggressively collected; they are relegated to the so-called 2nd tier by what in the 1930's seemed to be less cutting-edge style or filling mechanism. Indeed, beauty, scarcity and quality has led some of them to be valued more highly today even than some similar period and similarly sized Duofold or Vacumatic pens.

But, some of these lower line pens truly are of lesser quality, and would find themselves utterly neglected, relegated to the junk boxes at pen shows, were not PARKER emblazoned boldly on them. Still, the can be pretty.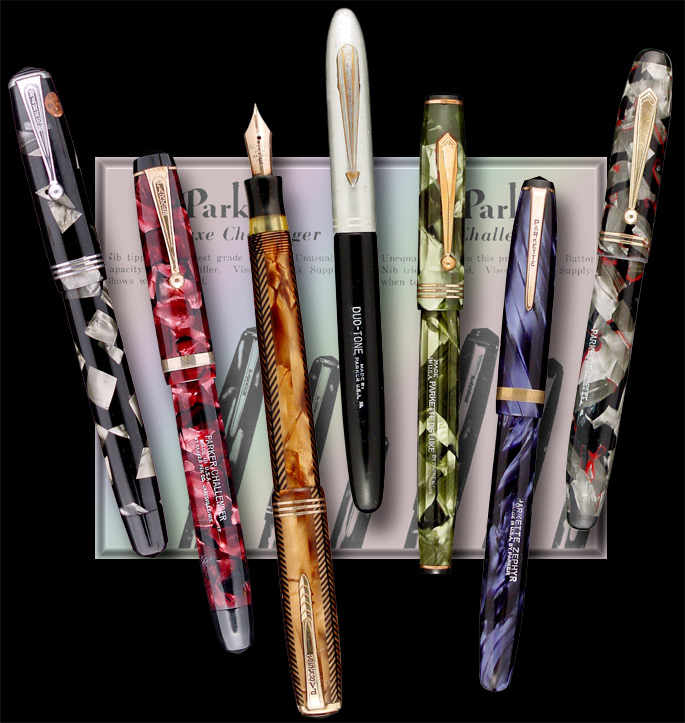 Image 4
: Left to Right- Deluxe Challenger, Challenger, Royal Challenger,
Duotone, Deluxe Parkette (slender), Parkette Zephyr and Parkette
4 Lines: Parkette, Parkette Deluxe, Parkette Zephyr and a late non-celluloid Parkette:

The bulk of this discussion will focus on the the two core lines of pens, produced for the longest runs and offering the most challenge. For most of the Parkette run, two core lines of pens can be found: the Parkette, proper, and the Parkette Deluxe, the latter occupying a slightly higher price point and featuring more fancy trim. Note that the very first pens from the regular Parkette family carried a different name, the Parco. But, the Parco became the Parkette and here is lumped together with the regular Parkette line:

Parco/Parkette

:
Produced in one size and in several key evolutionary forms. 1932-40

Deluxe Parkette

:
Produced in two sizes and two key evolutionary forms. 1934-40
Today, the prevalence of Parkette and Parkette Deluxe dwarfs that of the two remaining core models of the Parkette Family, the Parkette Zephyr- which consolidated and succeeded the previously mentioned models- and a late non-celluloid Parkette, which features the mapping of the Parkette name to a markedly different pen.

| | |
| --- | --- |
| Parkette Zephyr: | Produced in one size and in one form for about one year: 1941. A legacy to the defunct Parkette and Parkette Deluxe. |
| Non-Celluloid Parkette: | A 1950's pen representing a reintroduction of the Parkette name after a nearly 10 year absence. Little in particular in common with the earlier pens save for the lever filling system. |
Image 5
Left-to-Right: Parkette (Type 3b), Parkette Deluxe (Type 1C), Parkette Zephyr
and 1950's Parkette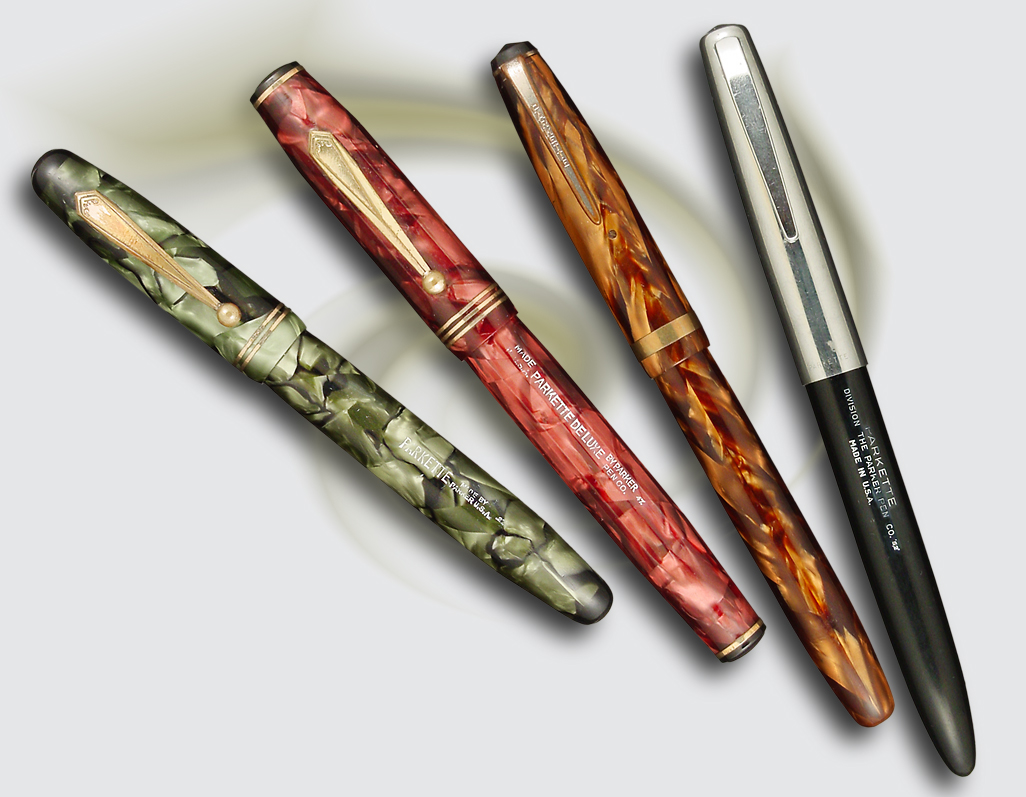 ERA OF PARKETTE PRODUCTION
The Parkette family was produced from 1932 through 1941, though the name was reintroduced in 1950 in a model that ran a couple more years.
The earliest (?) reference noted for the regular line Parco/Parkette family is ad template aimed at dealers from an August 1932 Parker Proxy. The text perhaps is a bit liberal, as the pens appear not to have been trimmed in solid gold, perhaps not even in the heavy gold filled metal seen on more expensive Parker pens. Go figure. But, the early pens did have true 14k nibs.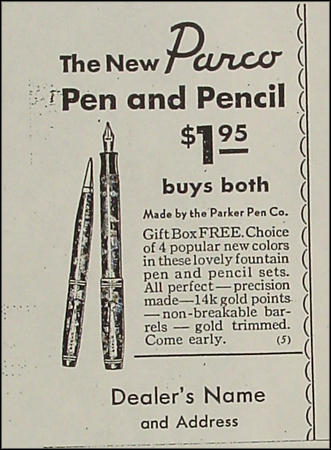 Image 6: Parco ad template. August 1932

The early name Parco gave way to the more familiar Parkette during 1933. The November 1932 Parker Proxy still calls the pen a Parco. By December 1933 Parkergrams address it as Parkette. The switch likely took place between the issuance of those two publications. By 1941 the Parkette and Parkette Deluxe were discontinued and the line was consolidated into the 1941 Parkette Zephyr. The Parkette Deluxe seems to first appear in 1934 Parker catalogs and is known to have run through 1940. During the war years Parker clearly cut back on its low line pens in favor of higher profit margin items, and from 1940-1942 or so appears to have eliminated all pens below the $5 price point. Parker references the elimination of lower price point items in a 1944 business magazine article.
Parker reintroduced the Parkette name around 1950 to a new line of lever-fill pens. Just as the 1930's Parkettes featured materials and styling of the day- celluloid caps and barrels, open nibs, and chunky contour- so too did the new 1950's Parkette feature- in somewhat cheapened form- characteristics of Parker's premier pen of the day, the Parker "51". With solid color injection molded barrels, metal caps and hidden nibs, this new Parkette maintained continuity with the old via its filling system, which was used in very very few lines of Parker pens. The tendency to reuse model names hardly was limited to Parker. Waterman, too, in the early 1950's brought back the venerable 1930's name Lady Patricia for a line of inexpensive metal capped pens. Sheaffer reused many of its 1930's model names over the years.

A Parker with a Lever? So what? :
From the late 1910's through 1948, Parker's self-filling fountain pens generally employed either a button-fill system or the vacumatic-fill system, the latter of which gets its name from its appearance in the Parker Vacumatic. Most of Parker's competition used the lever-fill system for their best pens. Waterman's Ripple and Patrician pens, Wahl's Gold Seal pens , Sheaffer's Lifetime, etc., all were lever-fill pens. It is interesting and a bit provocative that Parker introduced the lever-filler to its brand, long after the others had, whilst choosing to employ it only for its most humble and flimsy pen, the Parkette.

Eventually the lever filler would find its way into other Parker pens- also of the humble and flimsy sort- the Duo-Tone (not to be confused with Duofold) and the Writefine, produced at the end of the 1930's. This writer is unaware of other lever-filling Parkers. The Duo-Tone and Writefine will not be addressed at length in this treatise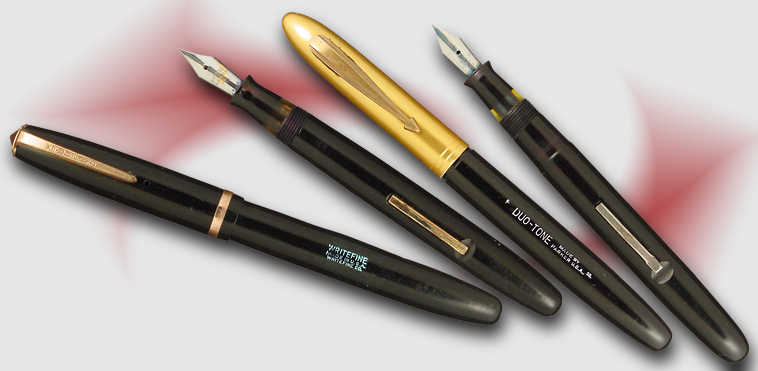 Image 7: Parker Writefine and Duo-Tone

With the introduction of the lever-filler Parco/Parkette, Parker featured three different filling mechanisms by 1933. Did this allow less costly manufacture for the new pen line? Perhaps. Still... one might imagine that Parker found a certain charm bringing out its lowest line pen in 1932 utilizing the same mechanism found in the best from its competition. Waterman Patrician, Sheaffer Balance, Wahl Doric and... Parker Parkette??!! A serious in your face to the other manufacturers.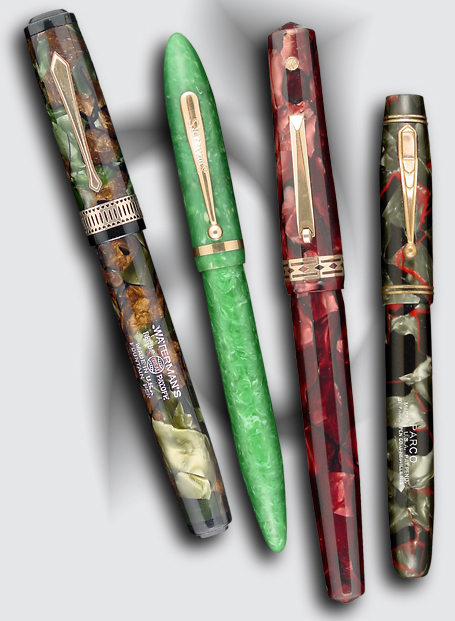 Image 8:
Four Lever fillers: $8-10 Waterman Patrician, Sheaffer Balance,
and Wahl Doric and...$1.25 Parker Parco!

The Parkette and Deluxe Parkette were third tier products. During the early-mid 1930's the streamlined Parker Duofold- a button filler- was ceding the premiere position at Parker to the Vacumatic; indeed it would cease appearing in catalogs altogether after 1934. The button-filler would continue use throughout the 1930's, largely in the Parker Challenger family, comprising the Challenger, Deluxe Challenger and Royal Challenger. Generally of quite good quality, the Challengers were rendered 2nd tier (compared to the Vacumatic) by virtue of price point, by presence of the old fashioned button filling system, and by lack of transparency of pen barrel. With the 1st-tier Parker Vacumatic priced at $5-10, the various Challengers ran $2.25-$5.
But, whilst the Challengers were solidly built pens, the 3rd-tier Parkettes (regular and Deluxe) made obvious sacrifices in quality. Priced at $1.25-$1.95, the pens' metal trim was markedly lower quality than that found on the Vacs and Challengers. The pens lacked Parker's vaunted washer clip. Brassing and pitting are common enemies of the Parkette, reflecting what appears to be flimiser finish (gold plate/wash vs goldfilled?), though perhaps the lower price of the pens led to less careful use/preservation as well. Indeed, today it is easier to find clean examples of Vacumatic or of Challenger than of Parkette; this both lowers the overall collectability of the Parkette but also enhances- relatively- the value of the occasionally seen

really clean

Parkette.
While most Vacs, Duofolds and Challengers from this period were readily convertible to Desk Pen with addition of a black end taper, the Parkettes generally made fairly weany desk pens, with catalog pages showing desk sets in which one simply removed the cap of the parkette and plunked it into the receiving trumpet... not very elegant. The Parkettes were the first Parker pens eventually to feature nibs not made of solid 14k gold.
Introduction to the taxonomy of the 1930's Parkettes:

The Parkette and Parkette Deluxe experienced frantic evolution during their run in the 1930's. The bulk of our efforts will be directed toward categorizing these pens. A peek at the tables below will make clear the relative complexity to collecting these two pens vs collecting both the later Parkette Zephyr and the non-celluloid 1950 Parkette. Both the Parkette and Parkette Deluxe experience minor and major evolution. An attempt at a rational taxonomy is presented below. It is based largely on shape of the pen and on trim features. Nib style does not contribute. New information of course might lead to subsequent modifications.

Does the reader need to know 9 Types or Subtypes of the Parkette and Parkette Deluxe models produced from 1932-1940? Will knowledge of these Types and Subtypes appear in casual pen chat? Will folks hear, "John, guess what? I just found a nice Type 3B Parkette in Red celluloid to match my Type 1C Parkette Deluxe."? Perhaps not. However, a stab at classification allows the interested collector to get a sense of the evolution and context of these pens, and provides a basis for serious collecting.

Do scan the tables below. Do not worry if the details do not make sense. The gaps will be filled when each model is reviewed. Apparent is that the Parkette and Parkette Deluxe require the bulk of attention

Parkette 1932-1940

Intro'd

End Rings

Shape details

Clip Style

Sizes

Type 0 Parco

1932

2 at top



Stepped, box

1

Type 1

1933

2 at top



Stepped, angle

1

Type 2

1934

none

stepped ends

Stepped angle

1

Type 3 A
(might not exist)

1935?

none

smooth blunt
endss



1

Type 3 B

1935
none
smooth rounded
ends
Faceted Smooth
1

Type 3 C

1938
none
smooth rounded
ends
Arrow
1

| | | | | | |
| --- | --- | --- | --- | --- | --- |
| Parkette Deluxe (1934-40) | Intro'd | End Rings | cross section shape | clip style | sizes |
| Type 1 A | 1934 | white plastic | fluted | stepped | 2 |
| Type 1 B | 1934 | metal | fluted | stepped | 2 |
| Type 1 C | 1935 | metal | fluted | faceted | 2 |
| Type 2 | 1938 | none | round | arrow | 2 |
| | | | | | |
| | | | | | |
| --- | --- | --- | --- | --- | --- |
| Parkette Zephyr | Intro'd | nib | shape details | clip style | sizes |
| | 1941 | 14k | slender contour | blade | 1 |
| | | | | | |
| --- | --- | --- | --- | --- | --- |
| Parkette metal cap | Intro'd | nib | shape details | clip style | sizes |
| | 1950 | hooded | slender contour | blade | 1 |
Introduction to the Parco/Parkette, proper (celluloid 1932-1939/40):

The Parco/Parkette family, proper, evolved frantically during its 9 year run, and was the first of the Parkettes family to appear. During the survey of the Parkette, the reader will be introduced to several types and subtypes. Some nuanced variants will not be promoted to full subtype.

Type-0 pre-Parkette. The Parco.


First reference August 1932
Likely already in production
Type 1- Early Parkette




Probably introduced late 1932-early 1933. Latest possible introduction is late 1933. It is noted that as many as three clip styles appear on the Type 1 Parkette during its roughly 1 year run. At this time these clip variants will not be assigned formay subtype status.

Type 2- Parkette with stepped ends



Shown in 1934 Parkergrams/Catalog
Type 3a- Parkette with smooth truncated black ends*



Shown in 1935 Catalog. it is uncertain if regular USA-made production pieces were produced with the truncated en

ds.
Type 3b- round ends, ball clip 1935


Found with 1935 date codes and illustrated in the 1936 catalog
Type 3c- round ends, arrow clip 1938



First illustrated in the 1938 catalog. The final Parkette, proper. It is suspected this style continued through 1940.
Type 0: The PARCO:

Introduced probably in 1932, the regular line Parco- first member of the regular Parkette family- actually is a fairly attractive pen, at least when it is found in decent condition. It features dual top gold-tone end rings, celluloids marbled in the Duofold tradition, gold nib, nicely stepped clip and overall a fair bit of flair.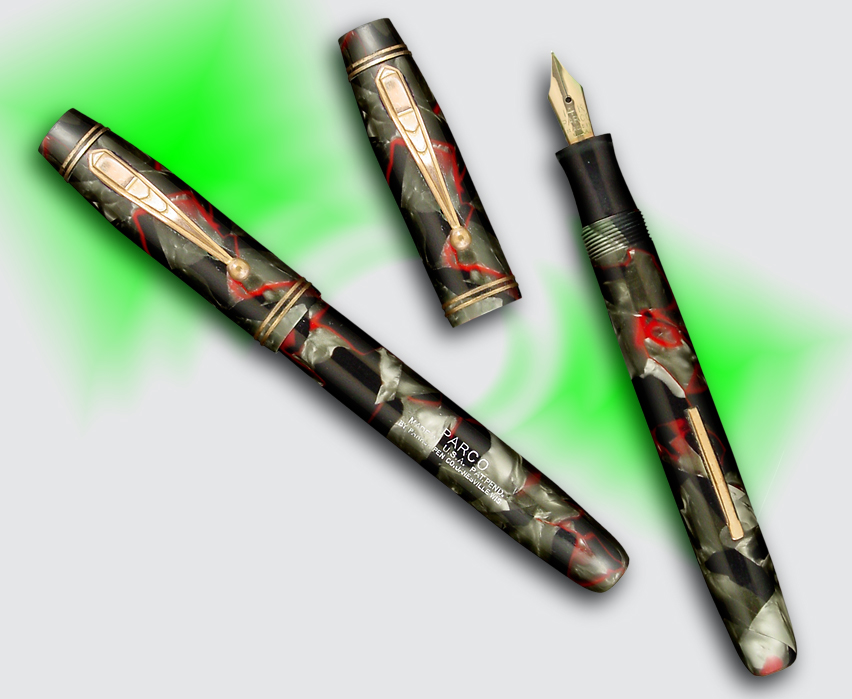 Image 9: The $1.25 Parco. Start of the Parkette era.

The Parco was cited in Parker literature. Whilst hardly Parker's prime focus, it did have its role. A Parker Proxy from October 1932 discusses sales positioning.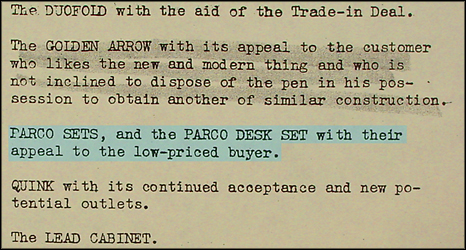 Image 10:
Just in case there was doubt the Parco was low end.
Could one purchase the buyer for little money, too?




Four Colors can be found

: Burgundy (a Burgundy-on-Blak similar to Duofold color of that era), Green (a more "crushed velvet" appearance compared to Burgundy), Gray (Gray-and-Black-with-Red-Veins) and solid Black. A firm value hierarchy really does not exist for these; I tend to favor a descending sequence of Gray, Red, Green, Black. Green appears to be the most unstable color, at risk for discoloration and for crazing.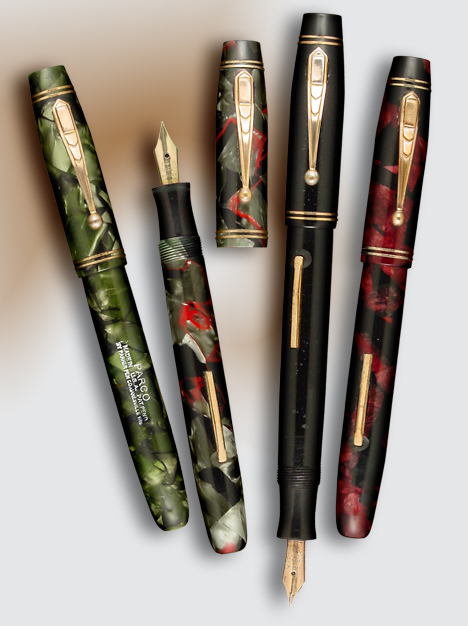 Image 11:
Four colors of Parco
Was it mentioned that Parco pulled the low end for Parker during this time? Well, yes it was. Here is more company shmooze.



Image 12: In late fall 1932, Parker did not have any illusions about its PARCO.

Type 1 Parkette: A name-change away from Parco:

The transition to Parkette seems to have occurred in late 1932-1933. The first of the Parkettes bore great resemblence to the Parco. The nibs still were gold. Indeed, at first and casual glance- save for the modified nib and barrel imprints- the new Parkette might appear identical to the Parco. Clip evolution proves more dicey. Most, perhaps all of the Parkette Type 1 pens appear with at least two different clip styles, both of which are subtly different from the Parco clip. Adding some confusion is the possibility that the earliest clip style (as seen on the Parco) bridged the the model's name transition perhaps appearing as a third (earliest) style clip on the roughly 1 year run of the Parkette Type 1. Keep in mind that for Parker pens in which several features evolved during a limited time, it remains uncertain today that all such features changed the same day of production! This problem plagues analysis of the Parker Vacumatic, in particular.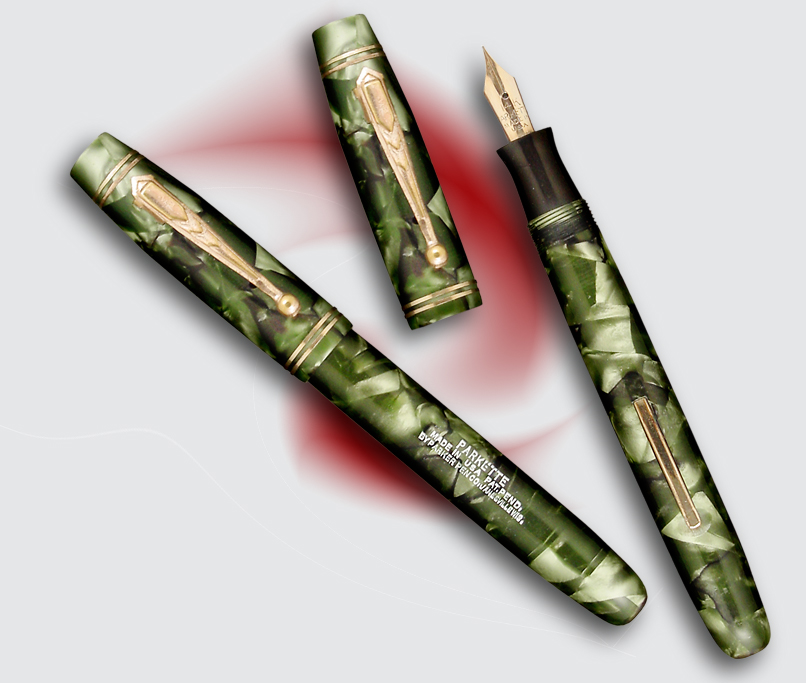 Image 13: Type 1 Parkette. Very similar to the Parkette, the nib and imprint now are marked, "Parkette". The clip has
changed, too.





Two clip styles and perhaps a third (which would be the

earliest

) appear on the Type 1 Parkette. Given the short run for this Parkette- roughly a year- and given lack of documentation for serial evolution to the exclusion of use of these clips in parallel, I have opted

not

to call these pens Type 1A, Type 1B and Type 1C Parkettes. For now, we will consider these clip variants to be... interesting nuances in the realm of Type 1 Parkette collecting.

In viewing the clips it is noted the key switch is from the Parco style clip- with its triangular and boxed shape marking at top of clip- to a simplified pentagonal marking. It remains uncertain if the Parco style clip was used on Parkettes, proper. Certainly, I've seen a couple at pen shows. While an invocation of the dreaded

Cap Swap

can explain these (cap from Parco put on a Parkette), it is at least as likely that Parker simply did not switch the clip stamping the very day that nib and barrel imprints switched, preferring use up a supply of fairly generic clips before bringing the new style on line. I do admit i'd be... suspicious seeing the second or third type clip on a Parco (Type 0 Pen).

In any case the second style clip gave way (or was produced in parallel) with a third clip style, which featured similar markings but on a thinner and slightly longer clip with smaller clip ball. This third style clip is the rule on the successor to the Type 1 Parkette, namely the stepped-ends Type 2 Parkette. That this clip appears on all of this later style pen does bolster the case that the three clips appeared serially. No value distinction is applied to one or the other clip when found on Type 1 Parkette pens.





Clip Style A: This clip appeared on the Parco (Type 0 Parkette). The example at right is from a Parco. It is uncertain if it bridged the transition to Parkette. It might have appeared on early examples of the Type 1 Parkette. Near the top note both triangular and box-shaped markings.

Clip Style B. Now with a pentagonal first step. Clip is about as long as the earliest clip style. It is proposed that this was the next iteration of clip to appear on the Type 1 Parkette.

Clip Style C. The Clip is longer and more slender, the angles on the steps are more acute. The clip ball is smaller.

Clip Style C- again.

This time shown on a 1934 Type II Parkette

(which will be examined shortly). Shown only for comparison. This clip also appears on the earliest Parkette Deluxe pens, also dating to 1934




Image 14 (included in table):
Three clip styles found on Type 1 Parkette. Type 2 Parkette shown, too
In current collecting circles, no clip style conveys greater or lesser value to the Type 1 Parkette. I am most charmed by Clip Style B. It appears not to be found on the earlier Parco, is different from the Clip Style C seen on the later Type 2 Parkette or on the Parkette Deluxe pens, and perhaps is less common than that later clip.

The earliest reference i've seen naming the pen Parkette is the December, 1933 Parkergram. If the text is accurate with no lag for printing time, the pen was called Parkette at least one month earlier, giving a November 1933 latest possible date for the appearance of the new name. Obviously, the name could have appeared anytime since the last known reference to Parco (in November, 1932). Thus, the run time for the Type 1 Parkette remains a bit unclear. In turn, the latest it was supplanted by the Parkette Type 2 is February 1934.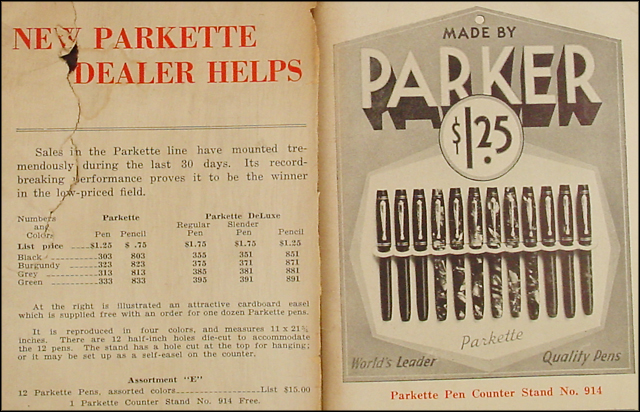 image 15: Point of Sale and catalog info from December 1933 Parkergram
The Parkette Type 1 is found in the same colors as the Parco, Burgundy (red/black chunks), Green, Gray (chunky Gray/black-with-Red-veins) and of course solid Black. The pens look very much like the Parco. Value hierarchy is poorly defined, though again i favor a descending sequence of Gray, Red, Green and Black.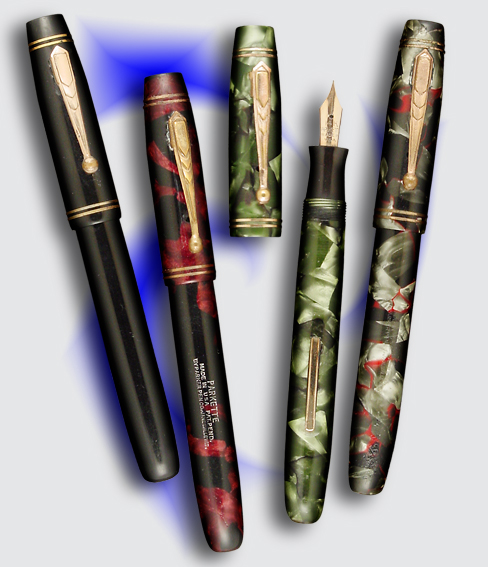 Image 16: Four colors of Type 1 Parkette, featuring two of the two to
three clip styles appropriate to this pen

Finally, peek at catalog copy from 1933 for a Parkette Desk Set. Whilst Parker desk sets based on other Parker pen lines from this era employed long black tapers to complete the desk pens, the Parkette obviously could not accomodate a taper because- unlike other Parkers- this lever filling pen lacked a bottom blind cap to remove and had no barrel threads at blind end of the barrel to which to attach such a taper. Keep in mind this notion of a Parkette Desk Pen, as this will be addressed again later.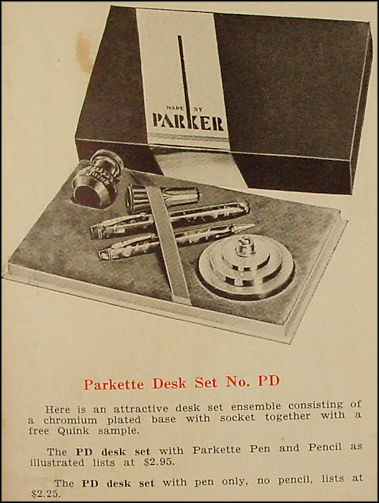 Image 17:
Parkette Desk Set. No Taper possible


TYPE II PARKETTE

:



The 1st Parkette gave way - perhaps in early 1934- to what might be niftiest of the regular Parkettes, though

niftiness

no doubt is subjective. This 2nd style pen saw the loss of the goldtone cap rings and the appearance of dramatically stepped black end pieces. The clip maintained the stepped appearance of the Type 1 Parkette- Clip Style C from earlier discussion, with slender long contour and small clip ball. The imprint remained unchanged from that of the Type 1 pen.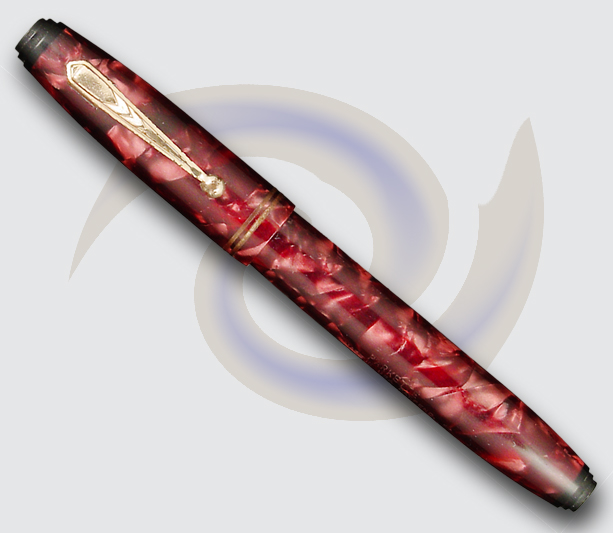 Image 18:

Type 2 Parkette.



Parker's lush color catalog from 1934 gives excellent treatment to this low-priced pen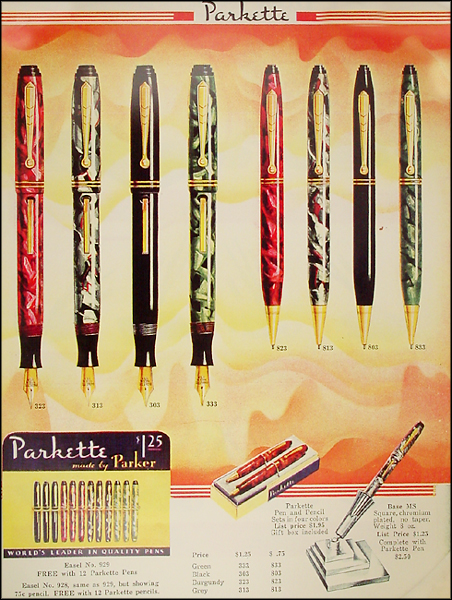 Image 19:

Catalog page from 1934. Just jam the posted pen into
the trumpet to form a clunky desk set.



Four colors again commonly are found in this iteration of the Parkette, though two forms of Burgundy are found, one of which is well less prevalent. Black, Green, and Gray (gray/black with red veins) remain unchanged . Burgundy, however, loses the chunky red-on-black appearance of the Type 0 and 1 pens (and which is reminiscent of Parker's vaunted Duofold) and gains the crushed velvet or pearl look of the green pen- with no black in the background. The commonly seen Burgundy Type 2 pen thus looks different from the earlier pens, unlike the other three colors which maintain their prior appearance.

In fact when this essay first was composed, I'd suspected this new pearlescent burgundy was part of the Type 1 to Type 2 switch. Bad suspicion. In any case, the Parkette Deluxe- newly described in 1934, too- would share this plastic for its Burgundy pens, and this Burgundy would persist until the end of the Parkette/Parkette Deluxe run. I still favor a descending value sequence of Gray, Red, Green and Black, noting that real world value is impacted far more strongly by the condition of these often-worn pens than by plastic color.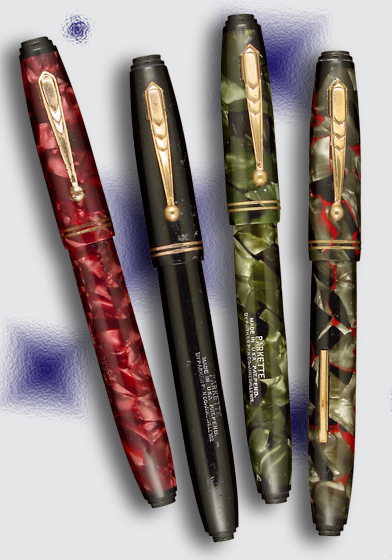 Image 20:

Four of the five color variants found on Type II
Parkettes.



Consider one more color of Type 2 Parkette. It should seem familiar. The pen shown below illustrates the dangers inherent in using observation- especially of a relatively small sample population- as a basis for generating "rules". Shortly before this essay went to press, this writer stumbled across an... unexpected... Parkette Type II. This one featured an early pre-date-code (mid to late 1934 or earlier production) imprint, and packed the red/black Burgundy celluloid different from the usually seen Type 2 Burgundy just shown; it harks back to the Burgundy found in Parco and Parkette Type 1. This also shows us that when pen evolution features multiple changes (eg. different nib, different clip, different shape, different imprint, different color, etc) in our somewhat arbitrarily assigned evolutionary schema,

not

all those details need to have changed at the at the same instant. Catalog images represent a snapshot (sometimes not even an accurate one) in time. Production

can

vary. It is suggested that this earlier style Burgundy was produced before the pearlescent Burgundy shown above, but it is impossible to rule out parallel production.



Image 21:

Type II Parkette found in Burgundy usually seen in Type 0 and Type 1 pens


The Parkette Type 2 bears no small resemblence to pens by Monroe and by Eclipse. Whilst collectors - rightly or wrongly- often believe that pens by smaller manufacturers or by makers of generally lower quality pens follow and mimic the style set by the big guys, internet discussion of late has suggested that the Monroe and Eclipse products predate this Parkette which shares so much in style. Still, the resemblance is startling. Monroe pens are highly sought, generally high quality items from a smaller maker. Eclipse often does not receive quite the same collector interest given Monroe, though it has a following too. Consider here, the Parker Parkette juxtiposed with the Monroe and Eclipse product.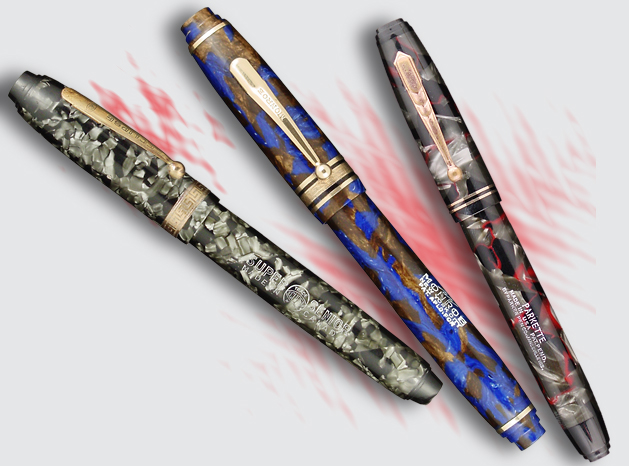 Image 22:
An Eclipse, a glorious oversized Monroe in "Patrician Turquoise" plastic, and a
Type 2 Parkette (convertible)


A convertible Type 2 Parkette:

Also, this Type 2 Parkette era featured something uncommon amongst the Parkette and Deluxe Parkette range- a Convertible pen, able to switch from pocket pen to true desk pen with the addition of a taper. Unlike other Parker pen lines of the time, which allowed for conversion to desk pens by removal of the blind cap covering the button or vacumatic plunger and with addition of a black taper, the Parkette generally had no blind cap to remove, because the Parkette was a lever filler. We saw that situation illustrated in earlier sections. But, Parker did produce some Parkettes able to follow the conversion-to-deskpen pattern set by higher line pens. Such Type 2 Parkettes feature a black stepped blind cap, one that is removable to allow attachment of a taper. Threads are present beneath, but of course no button is to be found. It is emphasized that not all Type II Parkettes could convert. Only those with a blind cap, indicated by an extra-wide swath of black at the bottom of the pen.
Notice below the two Type 2 Parkettes are not quite the same. The green pen at the bottom has symmetric steps at top and bottom. The Gray pen has a disproportionately large black region at the bottom. Indeed, whilst most Parkettes- including the green one shown- have a single piece barrel, this Gray pen has a true blind cap (a removable bottom cap) reminiscent of the blind caps which cover the button or vacumatic filling mechanisms of higher line Parker pens. Let us call this Parkette a Type 2 Convertible. The only examples of convertible pen I've seen are Type 2 Parkette. It is uncatalogued. The Type 2 Convertible will be addressed later. Don't forget the pen.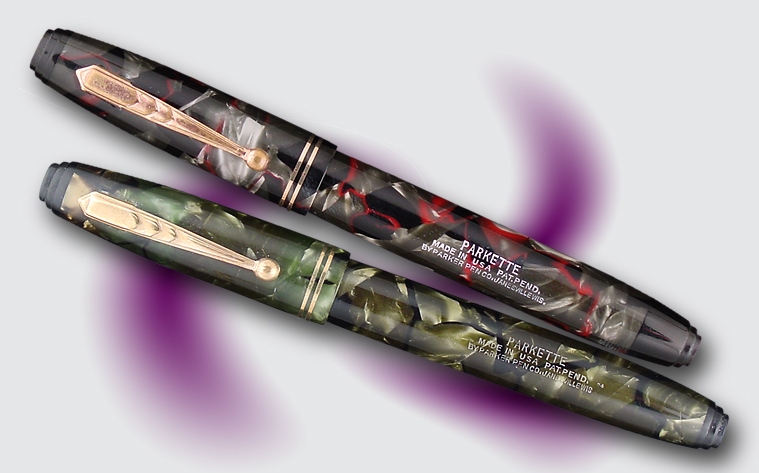 Image 23: Gray Type 2 Convertible pen with black blind cap, and more typical dedicated pocket pen in green.

Parkette Type 3 (3B, 3C and... perhaps 3A):

We now move to what is perhaps the most commonly seen form of regular Parkette, one that ran at least 1935-1939, though I do wonder if some late 1934 pens were produced in Type 3 form. The Third Style Parkette is dominated by non-stepped black endpieces. Smooth endpieces are the key to differentiating this dominant and final type from its immediate predecessor, the stepped-end Type 2. Type 3 pens generally pack a barrel imprint different from earlier pens, though sometimes even late Type 3 pens crop up with Type 1-2 Parkette barrel imprints, not explicable by invoking "someone swapped a barrel"- date codes and shape preclude such aftermarket parts swaps. It seems Parker did not want us to find this too easy. Due to some catalog information, at least one anomalous Canadian and a single neat off-catalog USA-made pen, consideration is given to the possible existence of a Type 3A pen, whose endpieces- whilst smooth, pack a somewhat different shape from the prevalent Type 3B pens. One would expect the Type 3A to exist- given that it was catalogued- but the things just don't seem to crop up! More data will be needed to pin down the Type 3A Parkette.

Parker's 1935 catalog offered dealers point of sale display items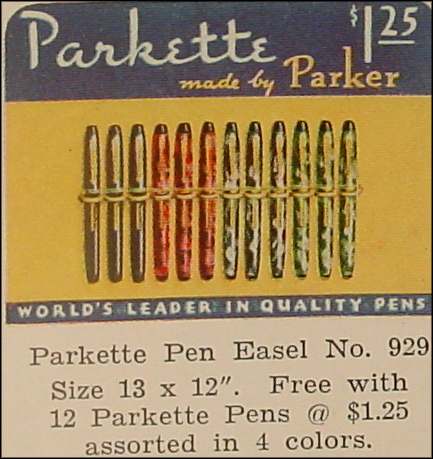 Image 24: 1935 catalog image of point-of-sale display

One can divide the 3rd style pens into earlier and later variants based on the clip (for now, consider them Type 3B and Type 3C), which evolved whilst the rest of the pen stayed stable. The Type 3 Parkette is catalogued in early 1935, though perhaps the switch in look occurred as early as late 1934. The type 3B pens had a faceted ball-clip. In 1938 the clip was switched to an arrow style clip. This clip marked the type 3C pen. The 3C would be produced at least through 1939-1940, when the Parkette, proper, appears to have ceased production. Before we address- briefy- the earliest subtype, the possible Type 3A, let us examine the better known Type 3B and Type 3C.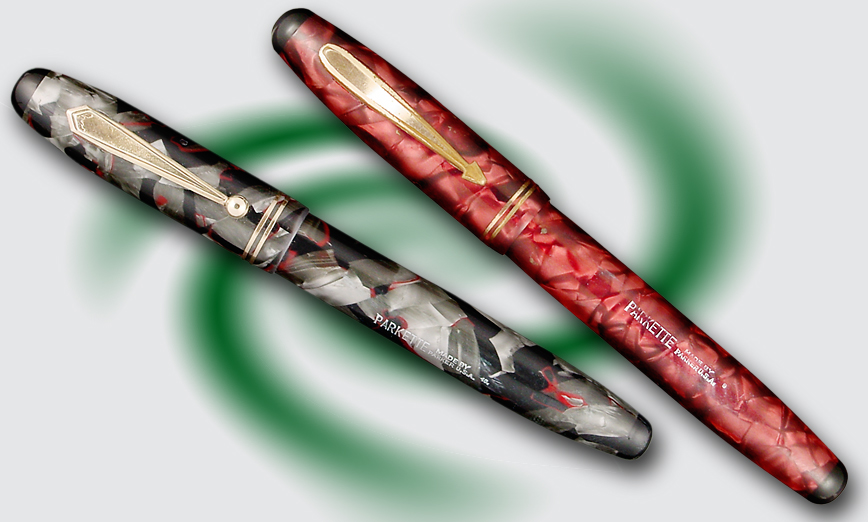 Image 25: Type 3B and Type 3C Parkette. Not shown is the tentative Type 3A, which is suggested by catalogues.



The Type 3B appears in the same four colors that characterized the Type 2 (stepped end) Parkette: Burgundy (crushed-velvet type), Green, Solid Black and Gray (Gray-Red-Black). Note that the stepped ends of the Type 2 are gone. Note the new imprint (though early style imprints do crop up years after the Type 3 was introduced). Note the new style clip on the 3B. Gone is the stepped clip of the Type 0-2 pens, replaced by a faceted clip, which in turn would be replaced by the arrow clip in 1938.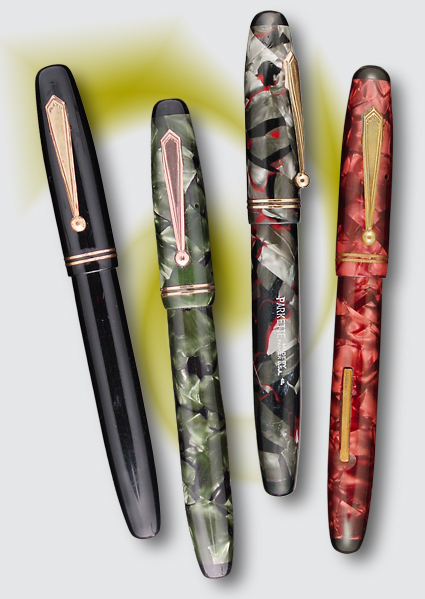 Image 26:
Type 3B Parkette in four colors


The Type 3C Parkette pen with arrow clip first appears in the 1938 catalog. Note the transparent gripping section, appearing across all Parker's sub-Vacumatic lines. Just as the Type 2 Parkette (stepped ends) saw two types of Burgundy plastic, it seems the

Type 3C saw the appearance of a new variation of one of its core colors. In this case, that color was Gray

.



Image 27:
1938 Catalog
Type 3B Parkette. Arrow clip


It seems that two different Grays might be found in the Type 3b (Round end, arrow clip) Parkettes . Below, the illustrated Type 3B Gray pen shows the pearlescent, crushed-velvet look of the Burgundy pen, no longer featuring chunks of gray and black with red veins. One might speculate that the conventional Gray pen probably also was produced during the Type 3B era, but that at an as of yet undetermined date, the plastic was switched to the gray shown below. Or, perhaps Parker used a batch of the new gray for awhilst in the midst of producing the usual color. But, either way one might expect to find five colors can be found in the 3B style, instead of just 4. If the Gray/Black/Red was not produced as a type 3B pen, then what the reader sees below is what he will find out there. This writer simply cannot recall if he has or has not seen the earlier style Gray/Red/Black in this form of Parkette. Sorry sorry.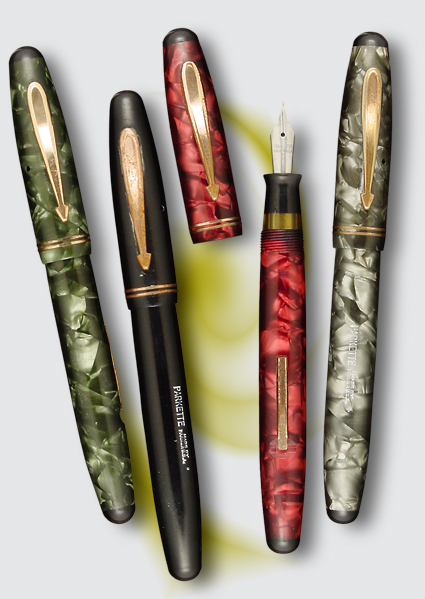 Image 28:
Four colors of Parkette type 3C. Note that Gray
now has the "crushed velvet" or pearlescent look. The older
Gray/Red/Black color perhaps was produced in this form
too.
Too, we note that in the 1936 catalog, Parker no longer cites gold nibs on the Parkette and Parkette Deluxe. Indeed, nibs from this era appear to be of steel. Some have gold tone. Some appear white, the latter perhaps simply having the goldwash worn away.


But, what about the Type 3A? How can you have Type 3B and Type 3C but no Type 3A???

Well, what about the Type 3A?? Perhaps we should cite the

possible

Type 3A. Its regular production is... uncertain.

The first catalog appearance for the Type 3 Parkette is in 1935. But, a subtle difference appears in that catalog illustration from the commonly seen Type 3B pen shown above (round smooth black ends, faceted ball-clip). In fact, as illustrated in the catalog i've seen no USA production pieces in catalogued colors. If you reads a bit of hedging in that, he is correct.

As noted earlier, smooth endpieces mark the start of what we label the Type 3 era. Prior Type 2 pens had stepped end pieces. All the Type 3 pens shown above have smooth endpieces and those so far shown are markedly rounded,too.

It is this writer's belief that a variant of Parkette appeared between the stepped-end and stepped-clip Type 2 and the rounded-end, facetted-clip Type 3B. This pen, also with smooth black ends would be labelled Type 3A... if it exists. Have a headache yet?

In the the catalog illustration (image 29) the Parkette's endpieces are not rounded like those of typical type 3B and type 3C pens. Intead, they are truncated to a flat top. However, whilst I have not handled a USA-made catalog-color pen of this shape- rendering it a "possible" sub-type for purposes of this paper- I have seen a pen in an uncatalogued color, dated fourth quarter 1944 (with earlier stepped clip to boot!) with this style end-piece. An undated Canadian pen also in an anomalous color has been found that is suggestive of Type 3A. Further work is needed to clarify the presence of regular issue Parkettes in this proposed Type 3 A style.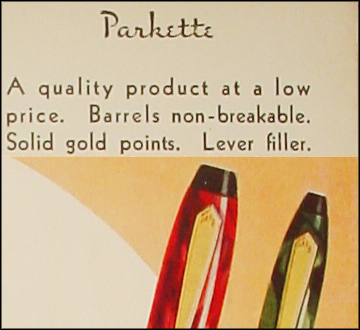 Image 29:
The possible Type 3A Parkette as shownw
in the 1935 catalog.

The complete run of celluloid Parkettes, Types 0-3, produced during a run from 1932 to 1940 have now been examined, barring some special topics. It is time to move into Parkette Deluxe territory.

Introduction to Parkette Deluxe:
The Parkette Deluxe shares with the Parkette the lever-filling system. Until the introduction of the Duo-Tone and the Writefine ~ 1938-1940, the Parkette and Parkette Deluxe were Parker's only lines to utilize the lever. Parkette Deluxe pens (Type 1) have a fluted (scooped-out facets) structure unique amongst plastic Parkers. But, the final form (Type 2) of the Parkette Deluxe- introduced in 1938- sees the return to a typical round cross section sans flutes. The Parkette Deluxe was priced at $1.95. Unlike the Parkette, proper, the Parkette Deluxe was produced in two sizes: standard and slender. In common with other sub-Vacumatic series, the Pencils come in but one size.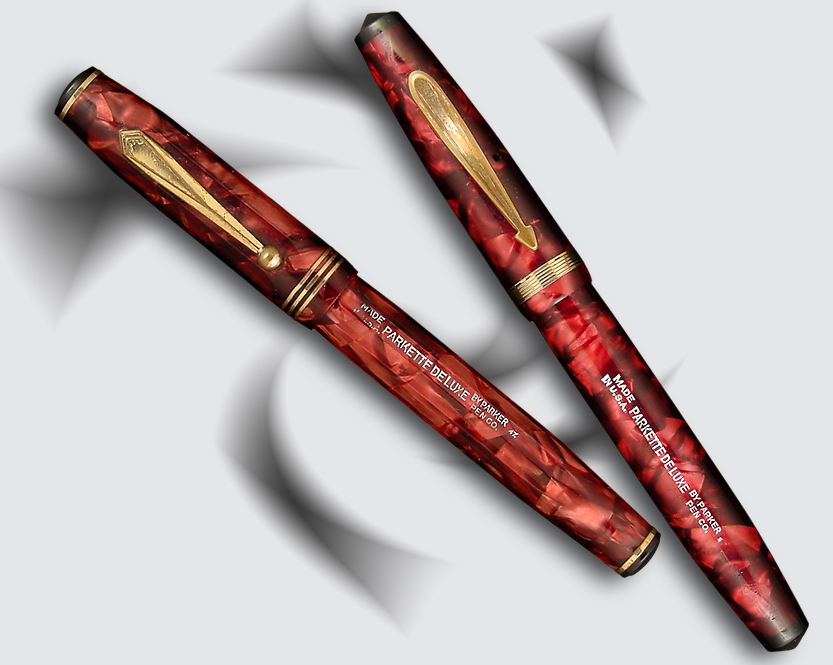 Image 30:
Fluted Parkette Deluxe Type 1 and the streamlined cylindrical Type 2
Collectors tend to be more familiar with the fluted pens, which were in production perhaps 4 years. However, the round model carries no small charm for the dedicated collector, as it is not so easy to find, even if it lacks some of the stylistic "oomph" of the earlier pen. The Parkette Deluxe generally is found in the same four color schemes as the Parkette- Red, Green, Gray and Black, though as with Parkette, exceptions happen.

Parker did make advertising and display materials available to dealers, as is shown in this 1936 catalog page.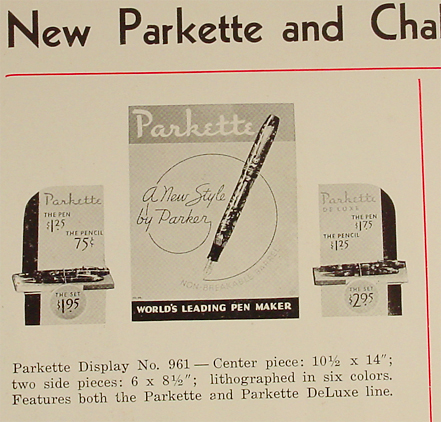 Image 30: More point-of-sale items from the catalog.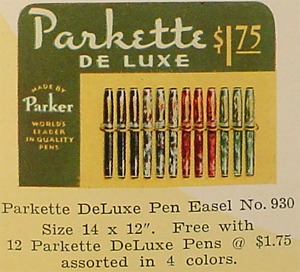 Image 31: The venerable display easel.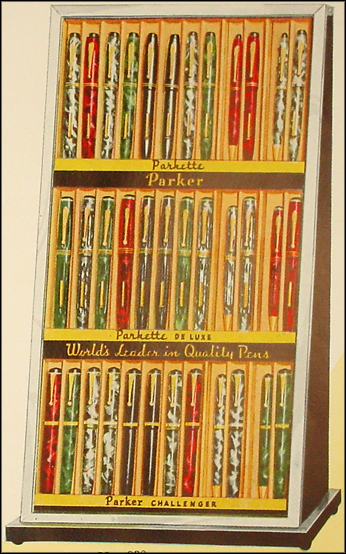 Image 32:
A nice way to display pens
TYPE 1 PARKETTE DELUXE- Three forms

:
The Parkette Deluxe Type 1 (Fluted Barrel and Cap) appears to have seen manufacture from 1934 through at least the start of 1938. The barrel imprint remains unchanged during this period. The contour of the pen grossly is stable, though the trim evolves. As always, it is risky to claim a trend based on examining a few examples. Still, observation does suggest a few stages of evolution. Unlike the Type 1 Parkette, proper, which we did not differentiate into subtypes based on clip style, for the Parkette Deluxe Type 1, clip will contribute to taxonomic subtyping.

Three trim forms can be identified for the Type 1 Parkette Deluxe.



Type 1A- Early Pens: Stepped clip. WHITE PLASTIC Tassies (end rings), independent of pen color. Possibly, the black endpieces are more rounded than on later forms.
Type 1B- Middle Pens: Stepped clip. Metal Tassies matching clip metal color. Very brief production, in all likelyhood.

Type 1C- Final Pens: Faceted Clip. Metal Tassies matching clip metal color





Image 33:
Three trim combinations from 1934-1938. The last (Type 1C) by far is most common.

TYPE 1A PARKETTE DELUXE:

As noted, the earliest of the Parkette Deluxe pens have stepped clips (reminiscent of the regular Parkette Types 2 and 3A), triple cap bands and decorative end rings. But, unlike later pens, those decorative endrings appear to be of white plastic rather than of metal to match the clip. The endpieces are a bit more rounded than what are found on later pens. Frankly, this writer likes the look of the white rings; they hold up much better than the metal rings found on later pens. No brassing is possible. Two sizes exist: Standard and Slender. It is suspected that the Type 1A trim mix ran from early to late 1934. The Type 1A appears in the 1934 catalog (image 34). Note, too, the typical Gray color (gray/black/red) shown in the catalog for these pens.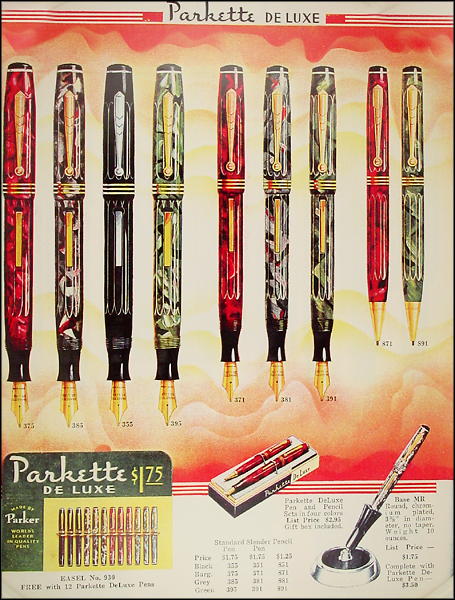 Image 34: 1934 Parker Catalog showing Type 1A Parkette Deluxe
Note the crude desk pen in which a pen with posted cap
makes the "desk" pen.

As with many Parkettes, the color spread includes Black, Green Pearl, Red Pearl and... Gray. Gray, though, proves a sticking point and introduces us to yet another color variant for the Parkette family. Most Gray Parkettes (Deluxe and regular) are gray/red/black. Late regular Parkettes (Type 3B-see image 28,above) and the Parkette Deluxe Type 2 (more on that later) feature an additional Gray Pearl which is a gray done more in the style of the Red Pearl and Green Pearl colors- pearlescent without any black and red- probably a "late" color vartiation.
However, with the Type 1A Parkette Deluxe we get yet another gray- Gray-with-Green-Specks (Gray/Green)
. It is my suspicion that plain ol' Gray-Red-Black can be found, too. It is shown in the catalog page (image 34), though i lacked an actual pen for image 35.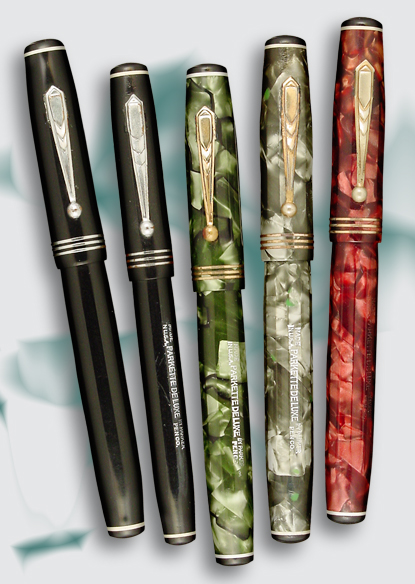 Image 35:
Four of the likely five standard colors of Type 1A
Parkette Deluxe. Note two sizes of pen.


Amongst pens manufactured in the USA, this writer has seen the Gray/Green variant only in the Parkette Deluxe Type 1A. Canadian pens likely crop up in more trim configurations. The two grays thus yield five colors for the Parkette Deluxe Type 1A. Enough of these have been found that this color mix likely saw a substantial run. The pen has increased value relative to typical Gray (Gray/Red/Black) even if- and the following is not known to be so- it is more common in this style than is the typical Gray. The color is just so funky. It is my suspicion that the gray/green is an... early... from of Gray.



Image 36: the Gray-with-Green-Specks Parkette Deluxe Type 1. A non-catalogued color.


At the first Long Island Pen Show in November 2006, a rather nifty Type 1 A Parkette was brought in for photography. This one featured a most unusual Turquoise plastic. As the pen is USA-made it will be shown in this section (some anomalous Canadian colors will be featured in a separate section near the end of this essay). As always, just because one or another catalog available to us fails to illustrate a color, does not exclude that color from "regular production" status. Was this pen an trial color produced in short run? Was it a regular run color shortly to be replaced by the more prevalent Green? Was it produced from an unstable batch of green plastic, shifting over time to the more blue hue? Or was it just a batch variation in the usual green, sold with no special fanfare? We can but speculate. This definitely is an anomalous color.



Image 37:
A turquoise-pearl Parkette Type 1A. An anomalous color
TYPE 1B PARKETTE DELUXE:

The Type 1B Parkette Deluxe represents a mix of the Type 1A's stepped clip and the later Type C's metal (vs white plastic) end rings. Amongst the 20 or so images of Parkette Deluxe Type 1 pens reviewed for this monograph, only one demonstrates this cocktail. This sampling is too small to draw sweeping conclusions. One might hypothesize that the plastic end rings were replaced by metal before the clip was switched to the Type 1C Parkette Deluxe style (faceted), creating a probably brief manufacturing window for the Type 1B shown here. See also the images of three Parkette Deluxe clips shown a few images back. This appears to be the most rare trim cocktail found amongst the Type 1 Deluxe Parkette pens. Barring its existence being a quirk of production- in which case perhaps it is overgenerous to elevate it to its own subtype- this pen indeed saw a short production period. It will help to identify more such pens and to correlate date codes to this trim style. I'm guessing these will turn out to be late 1934 to early 1935 production. Time will tell. It is imagined that the pen will appear in the four standard colors and in both sizes.


Image 38:
The only apparent Type 1B Parkette Deluxe seen by this writer. Early-type stepped clip, but late-style
metal trim rings (instead of white plastic).


TYPE 1C PARKETTE DELUXE:

The Parkette Deluxe with metal end rings and faceted clip appeared in 1935 and ran to late 1937 or maybe early 1938, when it was replaced by the non-fluted Type 2 pen. Compared to the year-or-so for the Type 1A and the who-knows-how-brief Type 1B, this was a hefty run and accounts of the dominance this style amongst available Parkette Deluxe pens. This 1936 catalog page demonstrates the line quite nicely, and the four catalogued colors are shown in the photo-montage (image 39)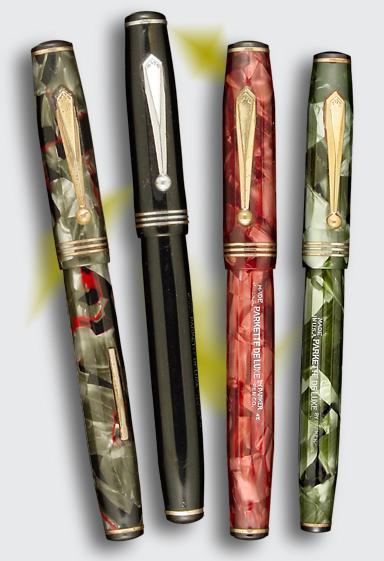 Image 39:
Four conventional colors of Type 1C
Parkette Deluxe. Note two sizes.

It seems that no fluted Parkette-Deluxe ever featured the mix of fluted plastic and smooth arrow clip, the latter being found on regular Parkettes of Type 3C and on the later Parkette Deluxe Type 2. This is consistent with the appearance of the arrow clip in 1938.

TYPE 2 Parkette DELUXE:

In 1938 Parker introduced a radically revamped Parkette-Deluxe. The flutes and end rings went bye-bye. Instead, a more conventionally shaped pen with round cross-section appeared and which featured the arrow clip familiar to the reader from the Parkette Type 3C. It featured a new concentrically ringed cap-band that many today choose to call the "stacked-coin band".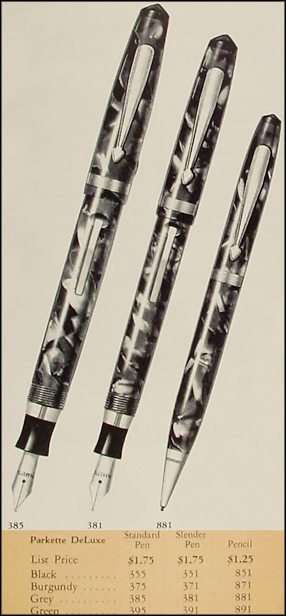 Image 40: 1938 Catalogue page
illustrating Type 2 Parkette Deluxe


These final Parkettes appear to have run through 1940. They appear in the four typical colors, namely Red, Green, Black and Gray, with Gray most often being the Gray/Red/Black mix seen on earlier Parkette Deluxe and Parkette pens. However the "Pearl Gray" color does appear as well, constituting a fifth available color.

Again, i suspect- but cannot prove- that the Pearl Gray represents later production pieces than the Gray which is gray/red/black . Still, other possibilites exist: the Pearl Gray could have been used in parallel, for short run or special order, or might've been used whilst the other plastic was not available. More important though is that the presence of both gray plastics in this model suggests that both also might be present for the regular Parkette Type 3B (similar era) for which i've photographed the Pearl Gray but do not have the Gray/Red/Black on hand. Again, the best reasonable hope collectors have to establish the truth of this model is to examine many pens and to correlate the date codes to the plastic.

The following picture shows a variety of Type 2 Deluxe Parkettes in both slender and standard size, demonstrating the 5 colors (counting two types of gray) that typically appear in this model. At the far left and far right are Slender pens. The center three are Standard. Note the presence of two different types of Gray. The pearlescent gray- whilst perhaps less attractive- probably gains an edge in value over its variegated brother, due to rarity.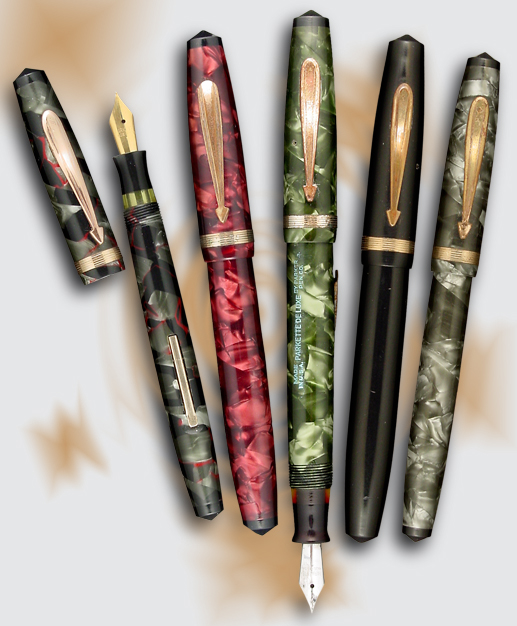 Image 41:
An array of Parkette Deluxe Type 2 Pens, showing two sizes
and five colors (counting two variants of gray)

An enlarged color chart is as follows. Do note the marbled/mottled/chunky characteristics of the colors. We will consider this again a bit later, when some anomalous colors are considered.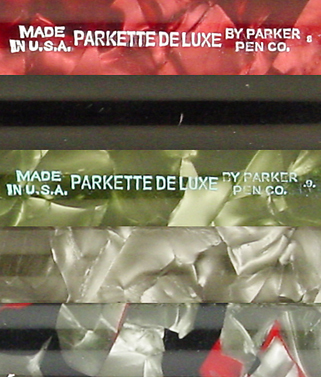 Image 42: Frequently seen Parkette Deluxe Type 2 Colors.

Let's take a final peek at that table outlining the Parkette Deluxe evolution. Now, it should make more sense. This marks completion of our analysis of core features of Parkette and Parkette Deluxe.


| | | | | | |
| --- | --- | --- | --- | --- | --- |
| Parkette Deluxe (1934-40) | Intro'd | End Rings | cross section shape | clip style | sizes |
| Type 1 A | 1934 | white plastic | fluted | stepped | 2 |
| Type 1 B | 1934 | metal | fluted | stepped | 2 |
| Type 1 C | 1935 | metal | fluted | faceted | 2 |
| Type 2 | 1938 | none | round | arrow | 2 |
| | | | | | |



Nibs for the Parkette and Parkette Deluxe

:

It is time to consider a couple special topics for the 1932-1940 run of celluloid Parkette and 1934-1940 Parkette Deluxe. The spotlight first will shine on the nibs. It seems that Parker started out the Parkette/Deluxe Parkette series using solid gold nibs, but that this would change in short order to goldplated or perhaps even plain white metal nibs. This happened subtly, perhaps representing Parker's attempt to hold the price whilst increasing profit margin on this low priced pen produced during the heart of the Great Depression.



NIB ISSUES for PARKETTE and PARKETTE DELUXE



Basic difference between Parkette and Parkette Deluxe Nibs

Evolution from solid alloy gold to gold tone plate perhaps to plain white metal

Whether made of alloy gold, of yellow-plated white metal, or of (perhaps) unplated white metal, nibs for Parkette and Parkette Deluxe

generally

(don't you hate that word?) are both marked just Parkette (no "Deluxe") and show one key style difference. The Parkette Deluxe has a partitioned nib, often (always?) showing a two toned effect. The regular Parkette lacks such a partition. Date codes reflect, quarter followed by year (eg. 37 is third quarter 1937), at least until mid 1938 when the single-digit-with-dots goes into effect.


| | |
| --- | --- |
| | |
| Parkette nibs have unpartitioned contour | Parkette Deluxe nibs have a partitioned look, often with two tone effect |
Image 43:

Parkette and Parkette Deluxe nibs



More complicated than basic differentiation of Parkette nib from Parkette Deluxe nib, is tracking the composition of those nibs. It is clear that the nibs started out (1932 Parco and 1934-ish Parkette Deluxe) in solid 14k gold. It is clear that by 1937 the pens were of yellow tint on white metal. It is possible that soon after nibs were produced without any attempt at golden look.

During the early 1930's Parker

generally

did not stamp its USA-made nibs to indicate their solid 14 karat gold alloy. All its nibs were alloy gold. Thus, Duofold, Vacumatic, Royal Challenger, and "Thrift" pens all had gold nibs without any 14k markings. It is supposed that the customer was meant to take as a given that pens from this lofty manufacturer were accompanied by solid alloy nibs.

Still, the earliest of the Parkette pens (Parco and Type 1 Parkette) and the earliest Parkette Deluxe pens indeed packed nibs stamped with as 14k. Perhaps this was a selling point in a market in which such inexpensive items- the evil competition's pens- generally lacked solid gold nibs, using goldplate and plain steel instead. A big bold "14k" could prove a selling point.


This 1932 Parco nib (image 44) carries perhaps the most bold proclamation of 14 karat-hood seen on any Parker Pen.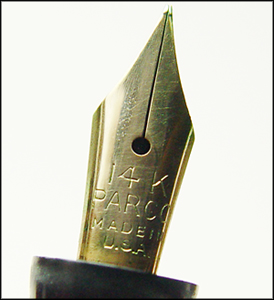 Image 44:

Parco (Type 0 Parkette) with
bold "14k" imprint.



Type 1 Parkette from 1933 (image 45) also showing prominant 14 markings. A shot across the bow of other $1.25 pens?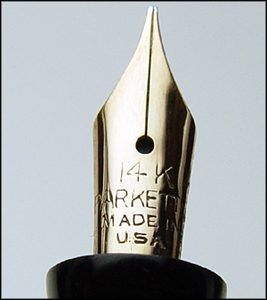 Image 45:

Early Parkette (Type 1)
showing similar imprint.



A peek at an early (Type 1A White End Rings 1934) Parkette Deluxe's nib is revealing. Image 46 shows the 14k markings and the two tone effect found on some Parkette Deluxe pens; interestingly, the two-tone effect is the reverse of what was shown in the 1934 catalog. I cannot help but wonder if this is a verrrrry early Parkette Deluxe nib. Note too that it is marked "Deluxe" and indeed cites its

platinum plating

. It is my belief that this is by far the most high cachet nib to be found amongst all four lines of the global Parkette family.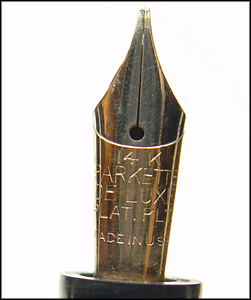 Image 46:

Parkette Deluxe nib, with
two tone effect in opposite orientation
from later pnibs and from catalogue
images. Probably an early pre date code piece.



Parker Catalogs from 1934 continue to claim 14k alloy for the Parkette family- even as Parker apparently dropped the 14k markings. Note, as has been seen before, Parker did sometimes use the world "Gold" liberally. Here is the text from a 1934 catalog page, probably accurately reflecting the presence of 14k alloy gold in its nibs. Note again the difference in look between the Parkette and Parkette Deluxe nibs. The more typical proximal platinum plating with distal gold is shown, unlike the rather special nib just illustrated.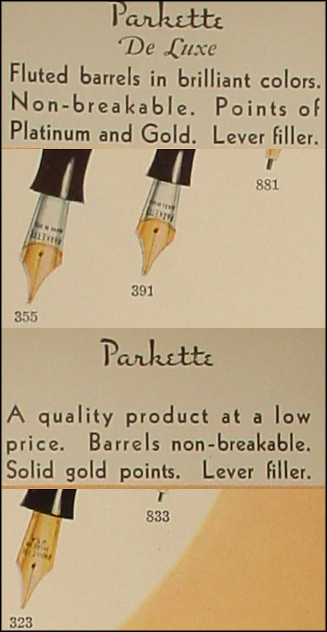 Image 47:

1934 Parker catalog trumpeting
solid gold nibs.



And 1934 pens seem to match the description. In image 47 we see a regular Parkette (Type 2, Stepped ends), not marked 14k but probably solid gold- at least heavy polish did not reveal any white metal beneath. But, hey, one never knows. I did not have the nib formally tested. By late 1934 at the latest, Parker no longer marked the Parkette and Parkette Deluxe nibs as 14k, though 14k appears to be what they were manufactured from, at least for a bit longer.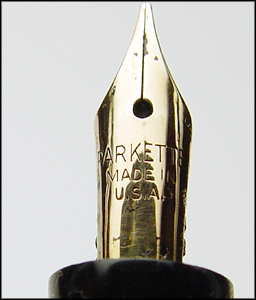 Image 48:

A 1934 Parkette nib, apparently
pre-date code, which- barring surprise-
dates nib to early-mid 1934



Next, consider two 1935 Deluxe Parkette nibs, which seem to have lost the white metal plating from most of the proximal half of the nib. The April, 1935 catalog still cites solid gold for the nibs on both Parkette and Parkette Deluxe. The nibs are not marked 14k.

A bit of the white metal effect is present on the proximal section of the nib- near the section- is consistent with the 1934 catalog page shown above. Had this nib not been gold with white decorative plating, but been plated in goldtone over a white base, one would expect the yellow to wear away revealing white, not the other way around. Although it is possible that double plating is in play- white proximal plating over whole pen yellow plating over a white non-gold nib. Also note the nibs are NOT marked "Parkette Deluxe", but save for the nib shown earlier with the with that marking and the funky reverse plating, no other Parkette Deluxe pen i've seen is marked anything other than "Parkette"; indeed, the catalog pages for this model (noting that catalogs do sometimes take artistic license) also do not show the word, "Deluxe" on nibs.






Image 49:

2nd quarter 1935 Parkette Deluxe nib. Hint of white color by the section



Image 50:

4th quarter 1935 Parkette Deluxe nib. Hint of white color by the section


So far, it has been suggested that Parker started both lines with solid 14k alloy nibs, that the earliest nibs were so marked, that 1934 and probably 1935 nibs still were of alloy gold, though unmarked. Still, it is clear that Parker indeed eventually did dispense with the use of solid gold; often worn pens are found with white metal nibs or a mixed look where simple goldtone effect has worn. Such non-gold-alloy two tone Parkette Deluxe nibs thus feature a reversed plating pattern- instead of platinum plating on gold, what next is found is partial gold tone plating on a white metal nib.

It is my belief that both pens featured gold nibs through at least 1935. It is clear that by 1937 the nibs are of white metal with plating. When did the switch occur?

Unlike the April 1935 catalogue, Parker's 1936 catalogue no longer cites solid gold in its description of Parkette and Parkette Deluxe nibs, whilst still doing so for other Parker products. Had the Parkette and Parkette nibs in fact gone to base metal by 1936? Uncertain. This 1936 Parkette Deluxe nib nicely demonstrates the two tone effect as shown above in the 1934 catalog. I have a sneaking suspicion that if one were to polish it, rather than losing "white" plating as one would when polishing the platinum away from a gold nib (1934-5), he would find instead that the goldtone on the distal nib vanishes, revealing an wholly white metal nib.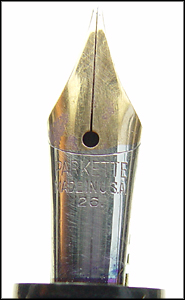 Image 51:
Two Tone 1936 Parkette
Deluxe nib. Probably base of white metal

Certainly by 1937 the Parkette Deluxe nib was reduced to a white metal base, presumably with the gold tone overlay of the forward portion. Here is one worn white from its (perhaps) originally two tone state.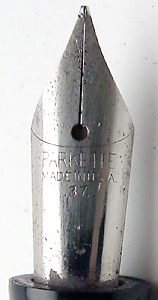 Image 52:

1937 Parkette Deluxe nib
no two tone effect left.



I lack a 1937 catalog on hand, but the following 1937-dated regular Parkette nib supports the notion that by 1936-7 Parker was scrimping on the use of gold alloy at least for its base $1.25 Parkettes. Note the worn yellow effect revealing white metal.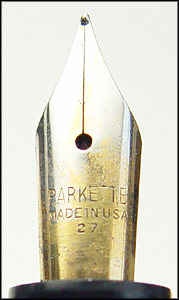 Image 53:

1937 reglar Parkette nib
losing its gold tone.



On the other hand, this 1937-dated Parkette Deluxe Nib- a remarkably flexible one at that- continues to show a two tone, split pattern. The bottom white plating largely is worn showing gold. Subsequent heavy polishing of the nib does not reveal white base metal. Could Parker have continued using solid gold as late as 1937 on

some

of the Parkette Deluxe pens?? This would surprise, especially in view of documented pens with white nibs with earlier date codes. Is it possible these nibs were double plated- with a white base nib, gold tone plating then over the whole nib, and a final white second plating on the proximal half of the nib? Perhaps, but that seems a bit complicated.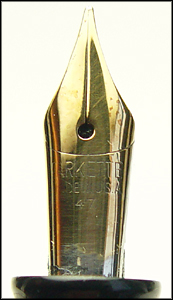 Image 54:
A puzzling 1937 Parkette
Deluxe nib which seems to show yellow (gold?)
beneath the largely worn proximal white plating. A double plated nib?
Or, a late solid gold production piece? Dunno.

Most of the 1937-1938 nibs for Parkette, proper, appear to be white metal. Whether they once were gold-plated I cannot say. Here is a 1937-dated nib that shows no sign of having had yellow tone. Did this start out goldtone? Dunno.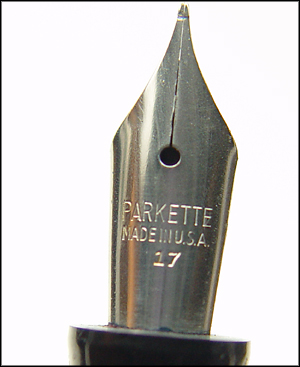 Image 55:

Another regular Parkette nib showign only white
metal. Was this one ever plated?



This extract from a 1938 Parker Catalog (image 56) describes the Parkette family of nibs in distinctly different terms from the Challenger's nib, and it shows a distinct difference from both the 1934 catalog and April 1935 catalogs, which did cite gold nibs for the Parkettes. This supports Parker's move away from true gold nibs for Parkette and Parkette Deluxe. Of course catalog text is of imperfect value. Indeed, Parker cites for the Parkette a "gold" band. That's true if by gold we mean thin gold plate.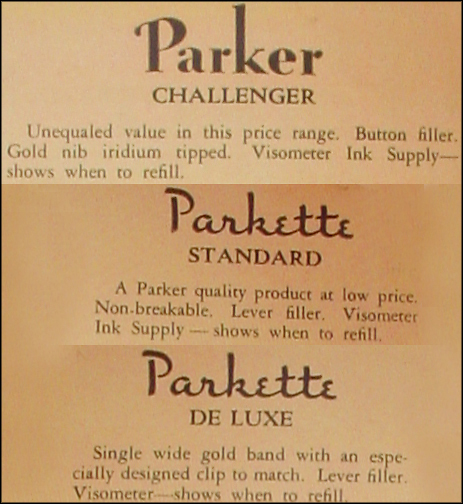 Image 56:
A 1938 catalogue page. The Challenger has a gold nib. Not
the Parkettes.

This 1939 Parkette nib shows white-metal.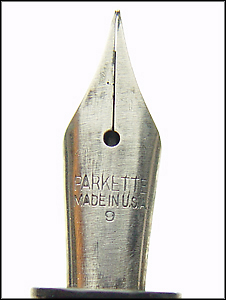 Image 57:
A 1939 Parkette nib. Did it
ever have gold tone?

The following (image 58) 1938 catalog page- for 1939 models- describes the nib for the Parkette Desk Pen using a term i'd not heard before- the Rador Point. Rador has a nice ring to it. Perhaps it means... steel.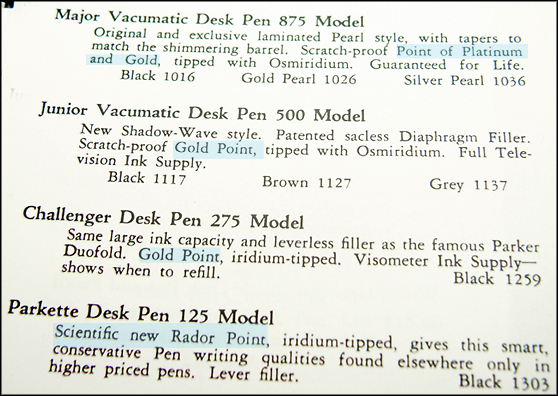 Image 58:
A 1938 catalogue announcing 1939 desk pens. No gold point for Parkette

To summarize the evolution of the nib, please review the following table. Most of this by now should make sense.


| | | |
| --- | --- | --- |
| Parkette Deluxe vs Parkette | | Parkette Deluxe nibs are bi-colored and have a partition separating the white from yellow portions. Rarely (perhaps indicating very early nibs) the white plating is on the distal nib (far end) and the proximal area by the gripping section is gold. Usually the proximal area is white, the distal area gold. |
| 1932 perhaps to early 1934 | | Nibs are of 14k solid alloy and are marked 14k |
| 1935 | | The April catalogue still describes solid gold nibs. Nibs from at the latest mid 1934 (maybe earlier) no longer are marked 14k, this perhapss being more in keeping with Parker's general approach to its gold nibs. |
| 1936 | | The catalogue no longer references solid gold points for Parkette and Parkette Deluxe. |
| 1937 | | Clearly, nibs have been observed for both Parkette and Parkette Deluxe that are of white base metal with gold tone plating. |
| 1938 | | Desk Pen catalogue for 1939 product cites the Rador nib, presumably a fancy name for a basic white metal nib. |
| 1938-1940 | | Are Parkette (and Parkette Deluxe) nibs now produced in white metal with no attempt at gold tone plating? |
Parkette and Parkette Deluxe Desk Pens???


The second of two Special Topics to be considered for the 1932-1940 period will be that of desk pens from the Parkette and Parkette Deluxe series.
Unlike other 1930's Parker pens- Vacumatic, Duofold, Challenger Family, and so called Thrift Pens- the catalogued Parkette and Parkette Deluxe lacked the Blind Cap. The blind cap of course is the little cap at the butt of the pen which covers filler units- either the button or the vac-plunger. It makes sense that the Parkette family- using a side lever for filling- would lack such a piece. The threads that accept the blind cap on those pens with blind caps also accept a long tapered end piece called- oddly enough- a taper, to

convert

the pocket pen into a desk pen.

Most early-mid 1930's Parkers instrinsically are convertible pens, serving as pocket pens with cap and blindcap in place, and accepting black tapers to become desk pens. Not Parkettes. One might suspect the existence of dedicated desk pens, but would not expect to convert regular pocket pens into desk pens.


Indeed, early Parker literature supports this view. The first reference to a Parkette desk set can be found in the December, 1933 Parkergram. Examining

image 59

, one sees an atractively packaged desk set. However, the desk pen is no different from the pocket pen; apparently one is meant to simply drop the plain pocket pen into the receptacle- the trumpet- to turn his pocket pen into a desk unit. Not very elegant.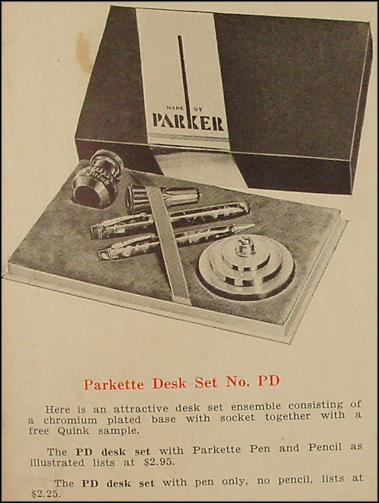 Image 59:
A December, 1933 Parker catalog showing Desk Set
A taperless, crude arrangement.

In case any doubt exists that Parker's early intent for providing a Parkette Desk Pen was somewhat inelegant and involved no taper, the 1934 makes the point in more explicit fashion. Whether Parkette or Parkette Deluxe, they buyer was meant to purchase a desk base, plop in the the posted pen- cap on back of the pen- and behold (!) create his Parkette Desk Set. How exciting is that? Not very.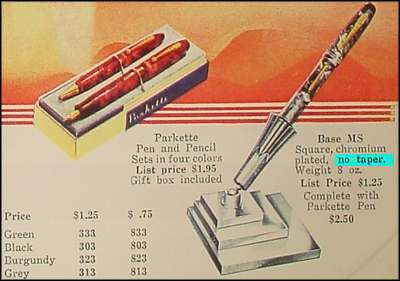 Image 60:
A 1934 catalogue page for the Parkette desk set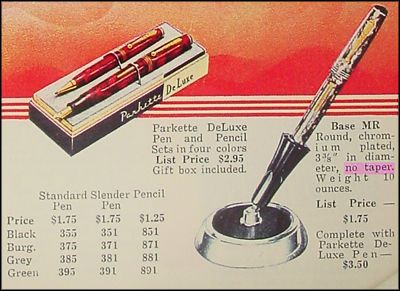 Image 61:
A 1934 catalogue page for the Parkette Deluxe desk set
However...

You knew there had to be a "however".

In discussion of the Type 2 Parkette, proper, an image (image 23, waaay above) was shown of a Type 2 typical pocket pen (in green) juxteposed with a Gray pen claimed to be a Convertible. Back in the section on Type 2 Parkettes, the term "Convertible" was not explored. Take a peek again. The gray pen indeed does not have symmetric black steps at top and bottom, but seems to have a larger swath of black at the blind end (bottom). This is not just unusual color distribution The gray pen is a convertible. The bottom black area in fact is a blind cap.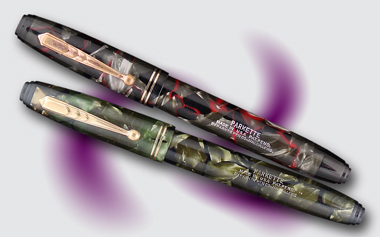 Image 62: A 1934 Parkette (Type 2) both in typical
pocket pen (green) and convertible (gray) forms.


The blind cap on the Type 2 Convertible pen can be unscrewed and removed, revealing threading that looks disturbingly similar-again- to the sort that houses the button unit of Parker's Duofold, Challenger, etc. But of course no button is present, as all Parkettes are lever-fill pens. However, the threads very happily accept the taper- a desk pen tail unit- similar to that used to convert Duofolds and Challengers from typical pocket pens into desk pens. The Convertible Type 2 pen can become a desk pen.

Missing from the picture (image 63) is the taper (tail) that would turn the pen into a proper desk pen, but the open pen conveys the idea reasonably well. A taper used for the Vacumatic Standard, Challenger Standard or Duofold Junior will fit the convertible Type II Parkette, though the Parkette appears to take the less fancy Challenger style taper (no metal ring at threaded end of taper)


Image 63:
A 1934 Type 2 Parkette convertible.
The following pen set (image 64) is sweet. a fluted Parkette Deluxe desk set in which the insert on the white metal desk base matches the green pearl of the pen itself. This pen- dated 1934-has threads and can accept a cap. The taper can be removed from athreaded end at the bottom of the barrel. It also addresses the nature of the taper. This one does not have a metal ring where taper meets barrel as would the Vacumatic and Duofold tapers. It has a black ridge, instead. Late catalog images support this sort of taper for the Parkette. The pen cannot- to best of my knowledge- function as a true Convertible, though, as no bottom piece (unlike for the Type 2 Parkette Convertible) exists to allow the pen to become a complete pocket pen.


Just as it was surprising to find convertible Type 2 Parkette pens- given the catalogue images, so to is a bit suprising to find a Type 1 Parkette Deluxe desk pen with taper dated that year. But, here it is. Parker apparently did not wish things to be too easy for today's collectors. The taper does remove, leaving the possiblity that the pen could convert to pocket pen. But, i've never seen a blind cap that would match the rest of the pen and allow for such a converstion. This appears to be a dedicated desk pen.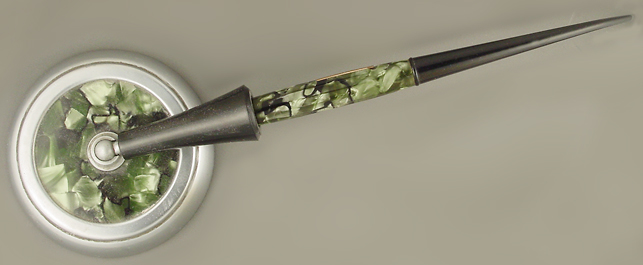 Image 64:
A 1934 fluted Parkette Deluxe desk set in green celluloid. Matching base.
A 1936 catalogue reference (see image 65) can be found for a Type 3 Parkette (1935-1937) Desk Pen, presumably one of the sort-of-dedicated sort, with threads to take tapers, threads to (theoretically) still accept a main cap, but with no currently known bottom piece to allow conversion to a pocket pen. The 1936 catalog shows a desk pen at the Parkette price point. Possibly/probably a Parkette. In fact, i own one such pen in green celluloid, with barrel marked Parkette.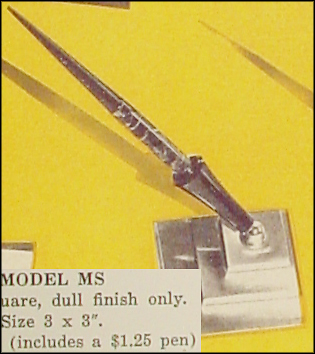 Image 65:
A 1936 catalog reference suggesting a
Type 3 Parkette desk pen. I own one.

The 1938 Parker catalog does illustrate (image 66) what likely is a Type 3 Parkette desk pen, likely again with removable/replaceable taper, though again not readily convertible to a pocket pen, due to apparent lack of matching blind caps.. Interestingly, it cites black to be the only color available.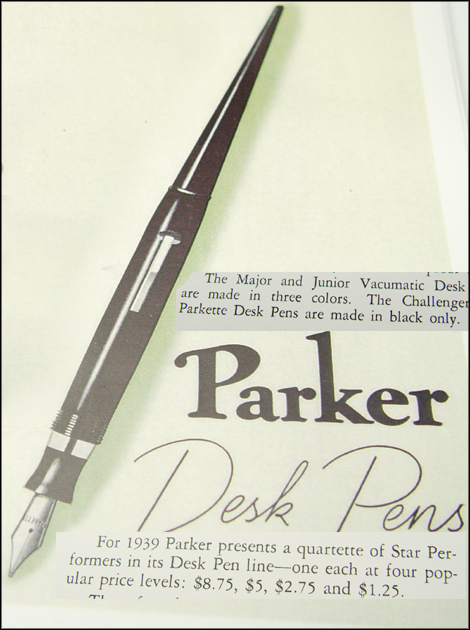 Image 66:
A 1938 catalogue page announcing the 1939 Parkette
Desk Pen- supposedly only in black.

The desk pens for the Parkette and Parkette Deluxe thus present us with real, but incomplete manufacturer's data. It is known that originally Parker presented them as taperless items, created simply by dropping a Parkette barrel into a desk trumpet. It is known that by 1934 a truly convertible Type 2 regular Parkette was produced- if not catalogued- and that it can be identified by the black blind cap at bottom of the pen. It is known that some Parkette Deluxe desk pens with threaded blind ends with tapers were produced as early as 1934. It is known that desk pens (seemingly not convertible to pocket pens due to lack of blind caps) were produced for Parkette Type 3 pens, too. It is known that a black Parkette desk pen was advertised in the 1938 catalog as a 1939 pen.

To summarize...

When first introduced, both Parkette and Parkette Deluxe in inelegant fashion could become desk pens if placed into standard Parker desk bases. The pens- unlike all other Parker lines- could not accept tapers because- as lever fillers- they lacked removable blind caps.

As early as 1934, variants of the regular Parkette type 2 (steppeed ends ends) appeared with an extra large swath of black at the bottom, which in fact repersented a blind cap which could be removed to allow attachment of the desk taper. These pens were true Convertables, serving either as Desk Pen or Pocket Pen. Parkette Deluxe dedicated desk pens appeared, which appear not to be able to cleanly convert back to pocket pens, due to lack of production of an appropriate blind cap.

Poorly characterized are circa 1935-1938 dedicated desk pens. Like all non lever filling pens from this era, they had tapers which could be removed from threaded ends of barrels, but the pens apparently could not serve as pocket pens. No bottom piece (blind cap) has been noted which would serve to allow such pens to serve as pocket pens. We have minimal catalog data for these, but it seems likely that most colors from that era were produced. I own one Type 3 (absenting cap and blind cap, one cannot say 3A, 3B or 3C) desk pen in Green. it is conceivable that Type 3 Pens could serve as convertibles, but none has yet been seen with a removable blind end such as was shown, above, for the Type 2 pen.

In 1938, catalogs do show a decent image Parkette desk pen, produced supposedly only in black.
I am unaware of Parkette Zephyr or 1950's Parkette desk pens.

Parkette and Deluxe Parkette ceased production probably in 1940, paving the way for a slightly more expensive new line, the Parkette Zephyr.


The Parkette Zephyr- 1941. A new Parkette.
Introduced at a slightly higher price than the now defunct Parkette Deluxe, Parkette Zephyr replaced both the Parkette and the Parkette Deluxe at the bottom of Parker's line of celluloid pens. The Zephyr was a more slender pen than the previous pens. Its plastic was different, too. The blade style clip shared style with what had appeared on the Challenger, Deluxe Challenger and "geometric" Duofolds produced during the prior couple years, and the single capband was reminiscent of Challenger. Today, most seen are very worn, and one cannot help wondering if despite the shared style shape, the trim finish on the Parkette Zephyr is far more fragile than what is place on the other cited pens. The Zephyr is the final iteration of the celluloid Parkette.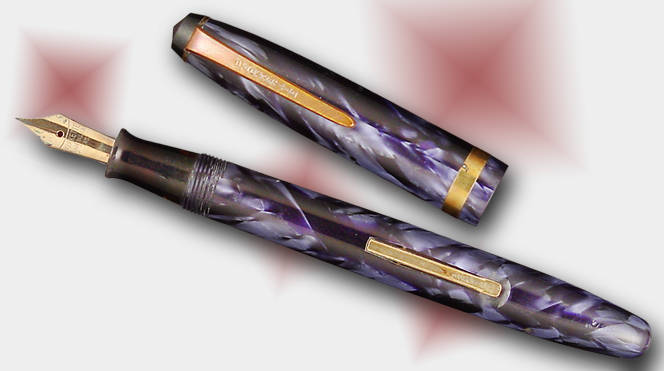 Image 67: Parkette Zephyr. One Size, Four catalogued colors. Return of the solid 14k nib
The nib on this pen perhaps is an earlier Parkette Deluxe nib

Parker restored the solid gold (14k) nib to the Zephyr, which was cataloged in the 1941 Parker Catalog. Note the single size, four available colors and an increased price relative to the now defunct Parkette and Parkette Deluxe. Jewels of Pendom was a popular Parker theme during 1940-1941. Whether or not the Parkette Zephyr warrants the label will be left to the reader.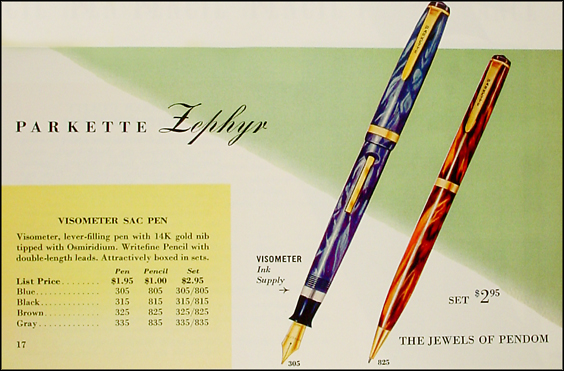 Image 68: Parkette Zephyr in the 1941 Parker catalogue. Note the return of
reference to a 14k nib. The nib is lacks the partition and bi-color effect seen
on the earlier Parkette Deluxe


Image 69: Zephyr's barrel imprint



The Zephyr was produced in one size and in at least four colors. Note the lost cap-lip on the black pen. A clear hierarchy of value does not exist for these colors, though i favor a descending order of Blue, Brown, Gray and Black.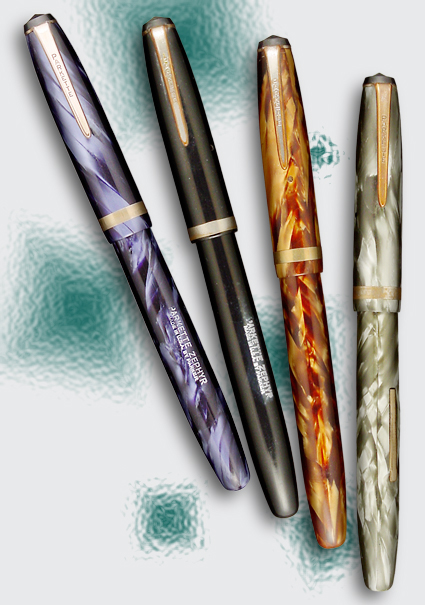 Image 70:

Parkette Zephyr in all four colors


Earlier, nibs for the Parkette and for the Parkette Deluxe were reviewed, revealing that during the 1932-1940 run the nibs were changed from solid 14k gold to goldtone plated white metal, and maybe eventually to just white metal. With the increased price of the Parkette Zephyr, gold nibs were reintroduced. The catalog page (image 68) mentions it. I have neither seen nor heard of Parkette Zephyr desk pens.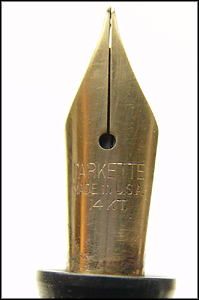 Image 71:

Parkette Zephyr nib.
14 Karat alloy and marked
as such.




As Parker entered the 1940's, as the American economy exited the Great Depression, and as wartime pressures imposed themselves upon pen makers, Parker moved away from its low-line pen and by at the latest 1944 appeared to no longer manufacture any pens below the $3.95 price point, possibly none for less than $5. Parkettes, Challengers, Deluxe Challengers, button-fill Striped Duofolds, even the relatively pricey Royal Challenger all ceased production.



The 1950's Parkette

Whether we name it the metal-capped Parkette, the injection-molded Parkette or just the 1950's Parkette, Parker introduced one last model of the Parkette around 1950. Pen companies had a habit to recycle old names during later eras. Waterman, around 1953 recycled the Lady Patricia name for a metal capped, injection molded, and solid-color-barrel pen that bore little resemblence to the lovely 1930-1940 celluloid Lady Patricia. Sheaffer recycled old names. So too did Parker around 1950 resurrect the Parkette name for a... you guessed it... metal capped, injection-molded and solid-colored barrel pen. At least for the continuity of the name, the pen had a lever filling system in common with its older brethren.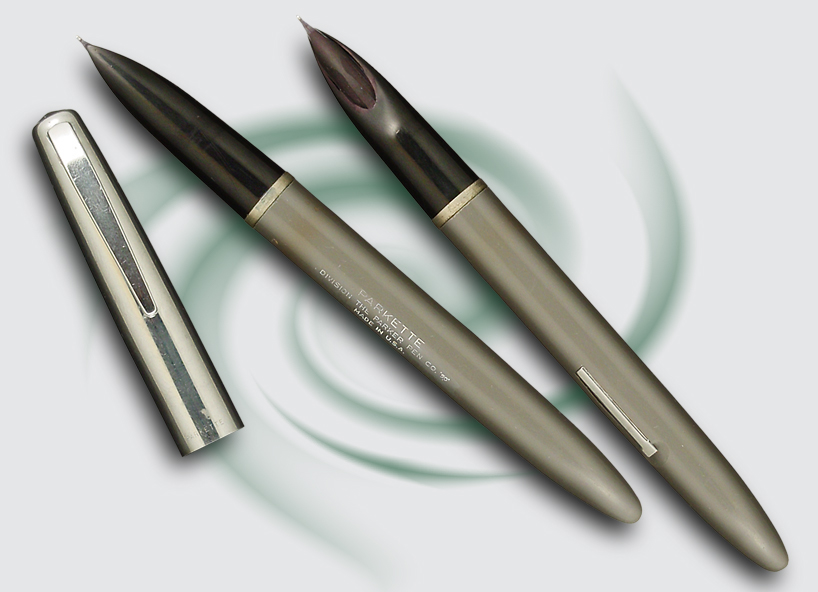 Image 72: Parkette from 1950's. The poor brother to other Parkers with hooded nibs.

Here, view the manufacturer's imprint as it appeared at this late date. The "52" represents the year of production- 1952.



Image 73: Imprint on 1950s Parkette

And, another Parkette imprint. Apparently a doubled-die effect has mutated "Co." for "Company" and the date code. Rare error pen no doubt not worth zeelions of dollars.


Image 74: Mutated imprint

Shown here are three of the perhaps four colors of the 1950's metal-capped Parkette. It is my belief that a burgundy pen was produced, too, though I lack evidence for this. With image 75, we complete our examination of the four pens to carry the name Parkette: Parco/Parkette (1932-1940), Parkette Deluxe (1934-1940), Parkette Zephyr (1941), 1950's Parkette ( 1950-1953?).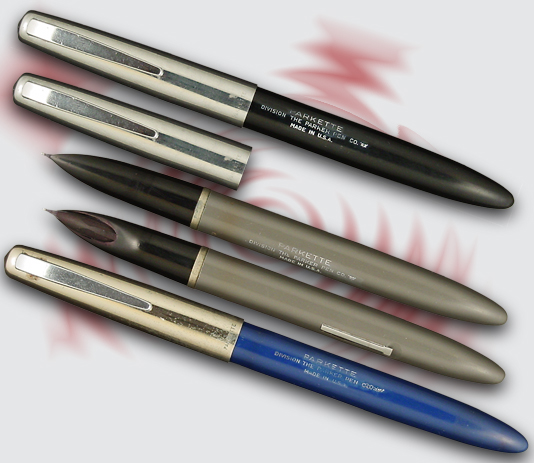 Image 75:

An array of 1950's Parkette pens




Return to the 1930's Parkette and Parkette Deluxe. Some Canadian exotica

:

In my recent purchase of a large Parkette collection, were a couple interesting Type 3 Parkettes, both of Canadian origin. Those of you who follow 1930's Parker know that when a pen is from Canada, anything can happen ;-) Here is a Parkette set in a color not seen in USA catalogs and never seen by me on a Parker manufactured in the USA, Green-Blue Pearl.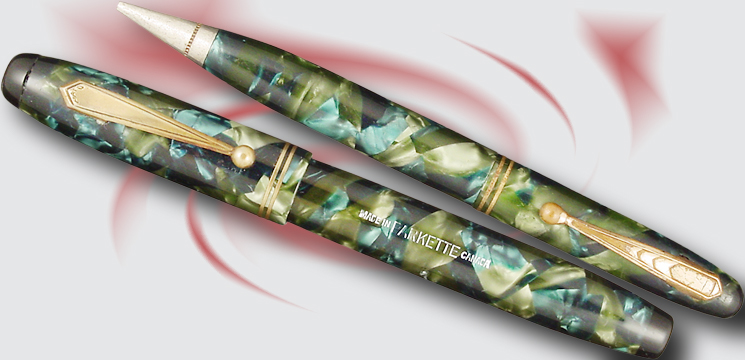 Image 76: Parkette set from Canada in Blue-Green Pearl

Too, the green-blue mixture is not commonly seen on better pens by any major manufacturer. But, at one of many photography sessions at pen shows throughout the country, another pen was found with the same plastic. Manufactured by Wahl- one of their Oxford line- it is a second to third tier pen even by that high quality pen company. That pen probably was positioned for a similar or slightly higher price point market than the Parkette. Still, placed side by side with this uncommon Parkette, it makes for nice vintage pen eyecandy.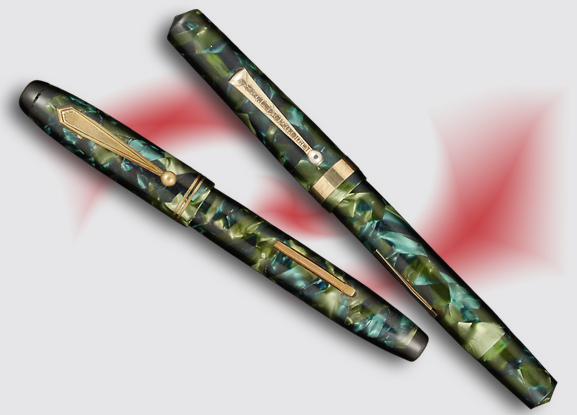 Image 77: A Wahl Oxford (USA production) matches the color of this Canadian Parkette

Then we have Copper Pearl. I've seen a few Canadian production Parkette and Parkette Deluxe pens produced in thiss lovely copper-pearl color. On seeing the first, I wondered if it might be a discolored red pen, and whilst the following does not rule out that possibility, it is noted that the color is very even on the pens and that it appears on pens of different style. Whether this was an intended color, a batch variant which did look different at time of manufacture, or some batches of red plastic that color shifted over time, i cannot say. I suspect that the color is different from the Burgundy Pearl and carries extra cachet because of that. However, because the pen is Canadian, the anomalous color does not have quite the same impact it would would were it an off-catalog USA production item.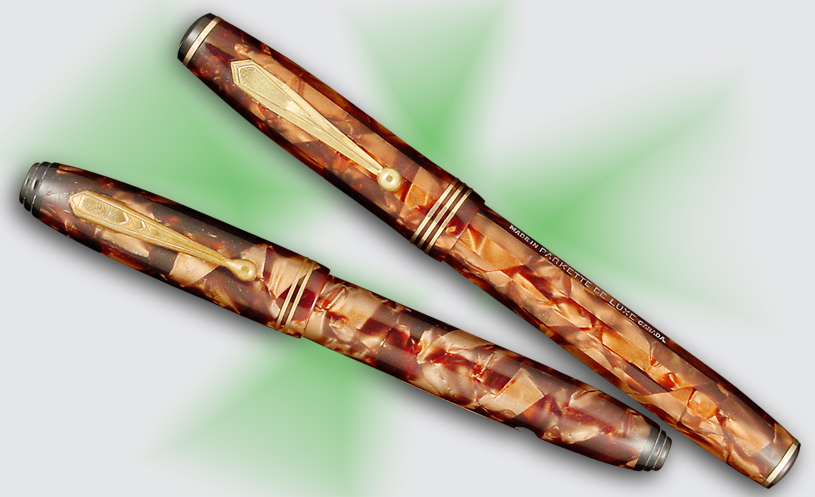 Image 78: Parkette Type 2 and Parkette Deluxe Type 1C, both of Canadian manufacture, in an unusual copper pearl
color.

Another Canadian Parkette (image 79) appears in a most unusual green/brown mix. Resembling a bit the Green-Bronze color best known in the vaunted Waterman Patrician, in fact the brown panels lack the metallic appearance found in Waterman's pens. This is the only Parkette i've found in this color, though i have seen one Safford Fifth Avenue (a Parker product) in similar celluloid.

Note too the interesting black endpieces. Neither stepped like a Type II Parkette nor rounded like the Type 3B or Type 3C, the ends- these are smooth and truncated- look disturbingly like the April 1935 Catalog images of the Parkette- my hypothesized Type 3A form. As i noted much earlier in this treatise, catalogues suggest a pen like this- probably the earliest of the Type 3 pens, but i have yet to see an actual pen of USA manufacture. Either my experience is too limited in this arena, or these pens either were not produced in the USA or were produced but briefly before the switch to more rounded endpieces. Still, finding even a Canadian pen to match that catalogue page supports the notion that Parker might have produced some such pens in the USA, too. Time will tell. Certainly, the clip is consistent with Type 3 production. This pen is dateless, but then it is Canadian.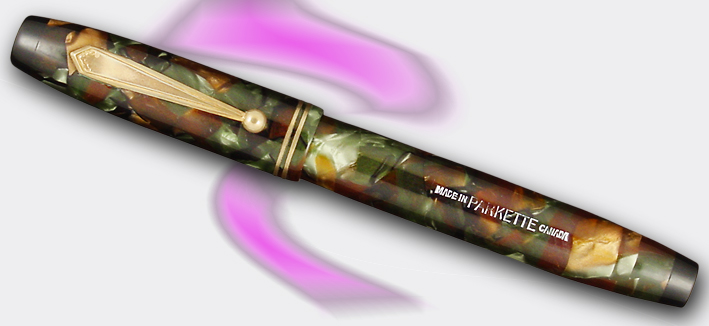 Image 79:
A Canadian Parkette looking like the currently mythical USA-catalogued Type 3A
Some Parkette Deluxe Type II Low Run/ Lunchtime Special/ Prototypes. More Exotica and Anomalies:

At the Chicago Pen Show in May 2006 i overheard two collectors discussing the Parkette. I ambled over and mentioned that i'd just purchased a collection of 60-odd Parkettes. One of the other collectors promptly responded, "Well Good! Then perhaps you'd be interested in buying a dozen or so low run/prototype Parkettes". He pulled out the pens and made me an offer i could not refuse. So... i did not refuse. Indeed, i bought the pens on the spot. Most of the odd-duck pens were Parkette Deluxe, in the final (type 2: Round, Arrow-Clip, Stacked-Coin Capband) form. All were fully imprinted and packed "28" date code for 2nd quarter, 1938 manufacture. Most lacked nibs. No matter.
The large cohort of 1938 Parkette Deluxe pens all are in non-catalogue colors and reportedly were found in Janesville, WI, Parker's home. Uncatalogued colors and typical colors but in in atypical patterns (swirled vs patchy) rule this lot. Before examining these special colors, peek again at the standard color spread for the Type 2 Parkette Deluxe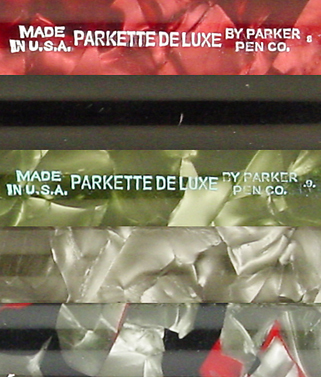 Image 80: Parker's common and catalogued colors
for Type 2 Parkette Deluxe (1938-1940)

Now we will consider 5 Deluxe Parkette Type II pens done in most unusual plastics. All the pens in this lot are fully imprinted, and all lacked nibs, feeds and sections when purchased. From top to bottom we see: Copper Helical Swirl, Red/Black Helical Swirl, Green Longitudinal Swirl, Fuschia Helical Swirl, and Copper Longitudinal Swirl. I've never seen these colors aside from this cluster of pens. Prototypes? Experimental pieces? Low-run rodstock for niche market? Who knows? What is known is that they are charming and- to my knowledge- unique, one of kind, only ones out there, etc. Even if a few more of each crop up, these i really like.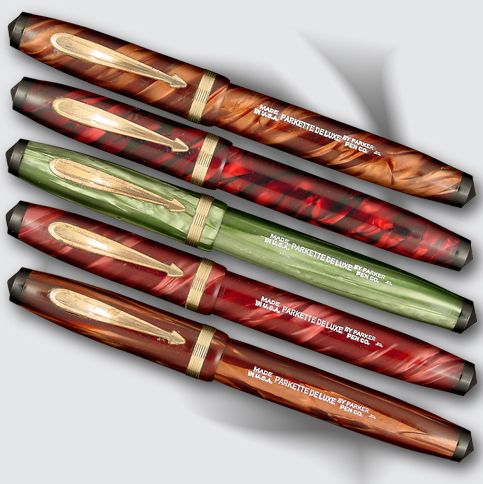 Image 81:
An array of lovely and uncatalogued Parkette Deluxe Type 2
pens.

Some Parkette Type 3 low-run/lunchtime special/prototype pens. More USA-made anomalies.
Also included in this lot were three fully imprinted regular Parkettes, generally of Type 3 appearance. Whilst one will be saved for the very end of this monograph, here are two for the readers consideration.

First, consider this golden pearl longitudinally swirled Parkette Type 3C, with appropriate date code (2nd quarter 1938)


Image 82:
An off-catalogue Type 3 Parkette in golden swirl pattern.
The second ineresting Parkette from this second lot is shown below.
Second, peruse this most unusual Type 3B Parkette, one which largely is a typical Burgundy Pearl specimen, but what happened to the opaque black endpieces??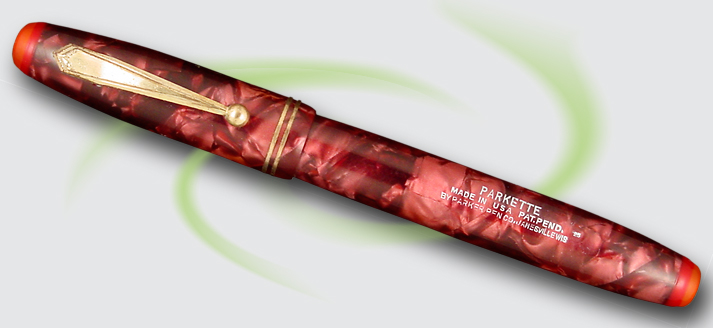 Image 83:
A 1935 Burgundy Parkette Type 3B with hot pink ends (not crazed)
From the What the Heck is This? pile:

Besides the three regular Parkette pens (one yet to be seen) and five Parkette Deluxe pens in unusual colors- and a few Parker-manufactured Safford pens, the pens shown below rounded out the Chicago purchase last year. Frankly, this writer does not know what to make of these pens. The clip and shape evoke the Parkette. The barrels are not imprinted. No nibs are present. Thee pens have a crude feel. These are reported to have come from the same spirce who owned all the other pens. Prototypes? Fun time on the lathe? Chazzerei done decades later at home and having nothing in truth to do with Parker? Your guess.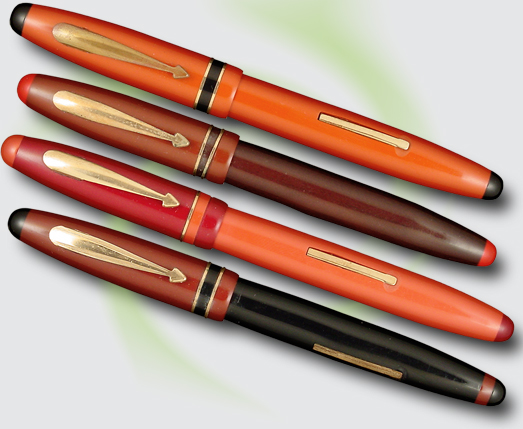 Image 84:
I don't know what these things are.
COLLECTING and VALUING PARKETTES:
OK. So lots of pens were produced during during the 10 years or so which encompassed the run of the Parkette, the Parkette Deluxe and the Parkette Zephyr. The 1950's metal-capped Parkettes add a few more to the mix. Substantial evolution and a nice color palette offer the collector many pens. But, how does the newly interested collector go about collecting these?
No absolutes exist about approaching what sort of collection to assemble. At one extreme, the collector can grab any one Parkette and consider the global Parkette family represented in his collection, or own even no pen whilst simply enjoying learning about them. Since collecting- in collector speak- reference learning as much as accumulating, perhaps it is just fine to have a collection comprising zero pens but to possess knowledge about those pens???!!! Nah... I didn't think so.
At the other extreme, one of course can be a completist, hunting all catalogued and perhaps even uncatalogued colors of all style variants for all four Parkette genera, various species and a plethora of subspecies. Whilst a formal tally has not been run, it is believed this would run easily 100 pens and pencils, not counting uncatalogued colors.
A balanced approach would be to collect one example of each major Type within the four families, with the reminder that Type specifies largely the contour of the pen. Skipping subtypes based on more subtle trim differences (eg. clip type, will limit the scope of the collection. This results in a collection of 8 pens, again ignoring color, size (for the Parkette Deluxe), and trim variation. From there, the collector can but expand his collection, eventually hitting that ~100 item goal.
Valuation of Parkettes poses challenges too. Some of the least of the pens are, as we've noted before, rather humble in terms both of quality and of collector cachet. In practice a worn and unrestored (but intact) Parkette probably starts in value around $10-15 per pen. Whilst a professional restoration usually costs around $25-30 (these are easy pens on which to practice restoration if the reader wishes to try his hand), it is NOT clear that a restored and intact but well worn Parkette is worth $35-45 pen. In fact it probably does not achieve that value. Thus, at the low end, pens might have relatively more dollar value as parts items (nib, clip, lever donor) than as restorable items. Who wants a worn pen shaped like a banana?!


Image 85:
The rare banana Parkette. White metal nib. Parts pen. Nearly worthless.
At the higher end, a clean (emphasis on clean) restored Parkette Deluxe can skirt the $100 range. No doubt some will object that no Parkette should be worth the price of a basic, clean high end Parker Vacumatic, but the pen market is a strange place. Clean fluted Parkette Deluxe pens are not so easy to find, are attractive items, and can be nice writers. They are well more difficult to find than basic Parker Vacs, because so many Parkettes are so worn and because they have trim that does not well tolerate wear. This near-mint-in-box Parkette Deluxe Type II Slender set from Alan Hirsh's collection shows how nice these can be. This set is solidly $100+ in value. Heck, the box alone is charming and probably worth $30 to the motivated collector of Parker ephemera.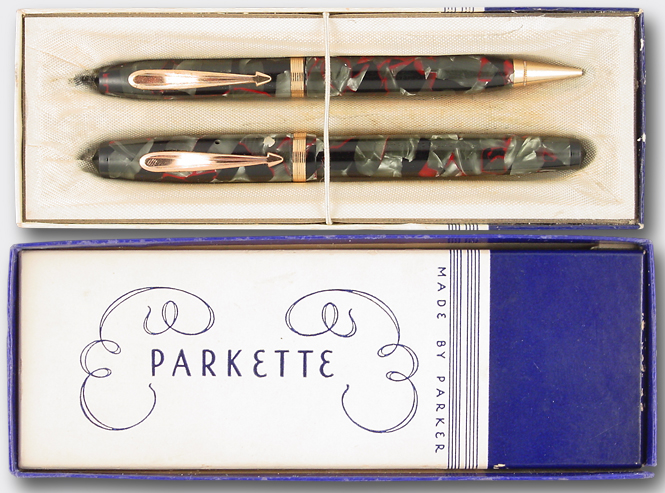 Image 86: A glorious Parkette Deluxe (Type 2) set


Thus, a price range of $10 to $100 seems to span pretty much all the worn, unrestored humble Parkettes, to the very clean Deluxe Parkettes. Obviously, mint condition pens (especially with price stickers and box), non-catalog colors, low run exotica and the like can rest well away from the main sequence and have added value. Value on the exotica can be hard to pin down, but from a strictly personal perspective, i can say that $100 would not touch any of those five off-catalog Parkette Deluxe Type 2 pens shown earlier.

In terms of desirability and cachet, the fluted (Type 1) Parkette Deluxes probably are top of the heap. To me, the stepped-end Type 2 Parkettes (reminiscent of some Monroe and Eclipse pens) have particular charm. I would place them and the late round Parkette Deluxes next in the heirarchy, followed closely by the Parco and early Parkette. The Round-end Parkettes and the Zephyr follow, with those darned ugly 1950's metal-capped Parkettes dead last. Of course, this is one man's opinion and other might disagree.

Where do we go from here?

The heart of this survey is observation, the collating of data gleaned from the examination of many pens and a handful of primary sources. Interpreting such cave paintings poses risks no doubt. Because the various Parkettes are products of the massive Parker Pen Company some company literature exists, so observation is supplemented by company info, but even that has its limitations.

No doubt the discovery of data from Parker itself, advertising materials, and of course more pens will yield more information about Parkette. I concede doubts that folks will tackle anytime soon a more comprehensive assault on the Parkette Family, but I am deeply aware that gaps persist in the data base and hypotheses presented here. Feedback about this treatise is invited, as is the presentation of clarifying information.


A going-away gift:

Dear reader. You have traveled long and hard on the road to knowledge of the Parkette Family. You have learned about colors, about evolution of trim, contour and nib, and about poorly documented desk models. You have gazed at Canadian pens in funky colors and at low-run off-catalogue pens from the States. In wrapping up the paper, I wish to offer a peek at my most interesting and charming Parkette.


Having some features of the not-really-seen USA-catalogued Type 3A pen from the April 1935 catalogue- the truncated smooth black endpieces. Yet it sports a late 1934 date code and the usual-to-1934 Type 2 clip and barrel imprint. It lacks cap bands, perhaps (or perhaps not) never having had any.


Best of all, is its color. A helically wrapped golden-brick pattern that channels (but does not quite match) the famous Golden Web plastic that would appear in the Parker Vacumatic more than a year later.

A trial piece? A tranitional (yes, we hate that word) sort of Type 2-and-a-half? One can but wonder. I can tell you this one will remain in my collection a good looOOOOoooong time.


Image 87:

Parkette (pre-Type 3A) in plastic reminiscent of the Parker Vacumatic golden web. One of a kind?
Bandless or lost bands?


Enjoy!


David R. Isaacson, MD
January 15, 2006



Appendix: Acknowledgements and Sources:


<>This author appreciates having had the opportunity to acquired these pens and wishes to recognize Gary Cola and Daniel Zazove as the sources of two significant collections which provided most of the pens shown here. At least one pen imaged is from the personal collection of Daniel Kirchheimer. Bill Reipl (assuming he survives the process) is thanked for having formatted this rather long (~ 30+ pages in print, by guesstimate) tome for the Stylophilesonline website.

Source material is as follows

Parker Proxy magazine- several issues dating 1932-1933
Parkergrams with Catalogue- December 1933
Parkergrams with Catalogue- February 1934

Parker Catalogue (Possibly mid 1934)
Parkergrams with Catalogue- April 1935
Parkergrams with Catalogue- Sept 1936

Parker Catalogue 1938
Parker Catalogue 1939
Parker Catalogue 1940
Parker Catalogue 1941
Probably more...